The first thing to do before undertaking a trip is to plan it: looking for which airline to fly with, planning an itinerary or hiring a guide, thinking about what to add to the suitcase, and choosing your accommodation. There are a lot of accommodations in Japan, each one offering a unique experience. To help you find the accommodation of your dreams, here's a guide to the different stays you can have while visiting Japan.
Classic Accommodations in Japan
Here's a selection of "Classic" accommodations, such as hotels, hostels, camping, and more in Japan.
Hotel (ホテル)
The most classic option is to stay in a hotel. In Japan, there is a huge diversity with a wide range of prices depending on the quality and services. In Japanese hotels, you will usually get a Western-style room with a private bathroom. It may include a toothbrush, a variety of shampoos, bathrobes, or towels, among other things.
Hotel reception usually has 24-hour service and may speak English, especially in Tokyo. These accommodations are perfect for those seeking Western comforts in Japan.
Some Japanese hotels can be themed on well-known Japanese characters, such as this Hello Kitty room at the Keio Plaza Tama Hotel or the Yuri on Ice room at the Prince Hotel in Ikebukuro.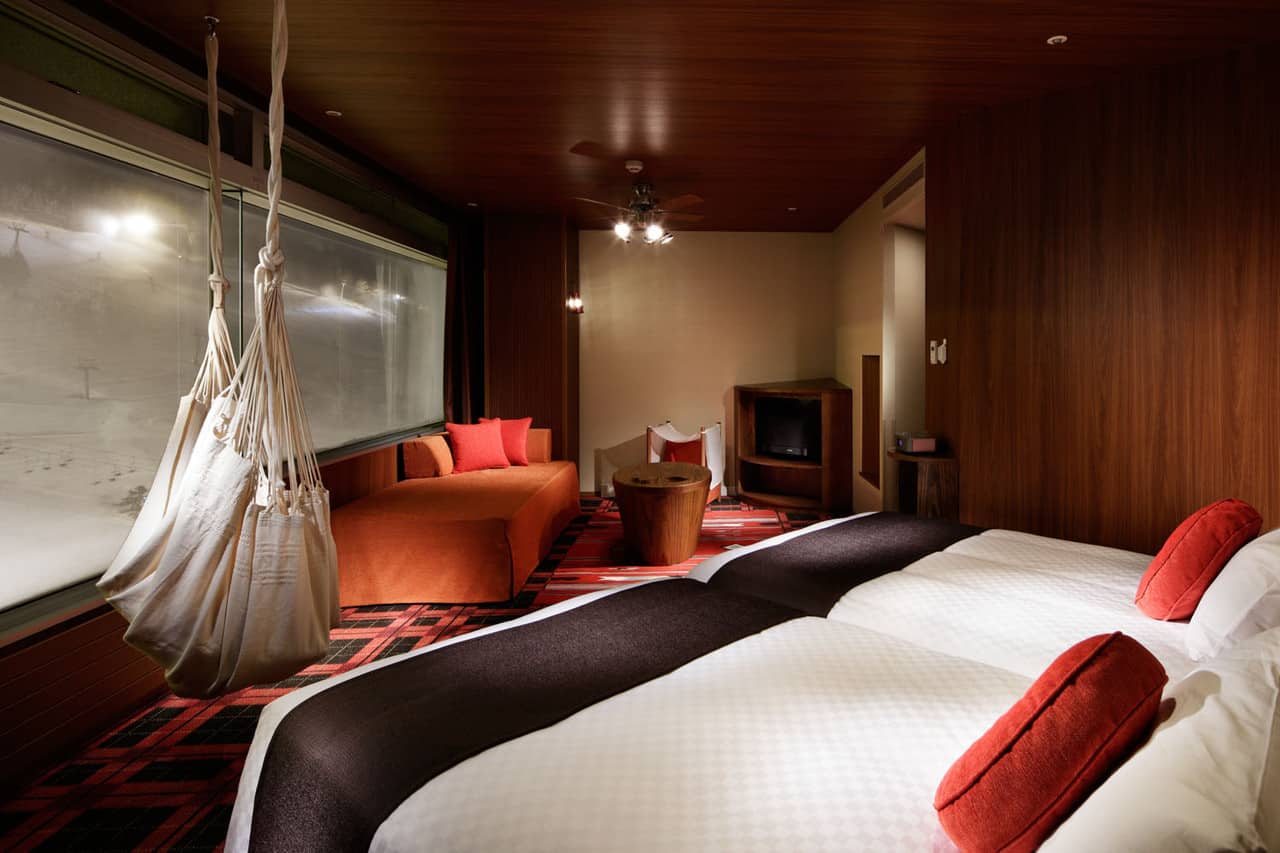 Luxury Hotels (高級ホテル)
As in many countries, Japan has luxury hotels that offer unique experiences such as private spas, extra hairdressing services, and swimming pools, as well as impeccable service and large rooms with all the amenities. For example, in Tokyo, there are the Shinjuku's Park Hyatt for $300/per night or Hilton Tokyo Odaiba for $200/per night.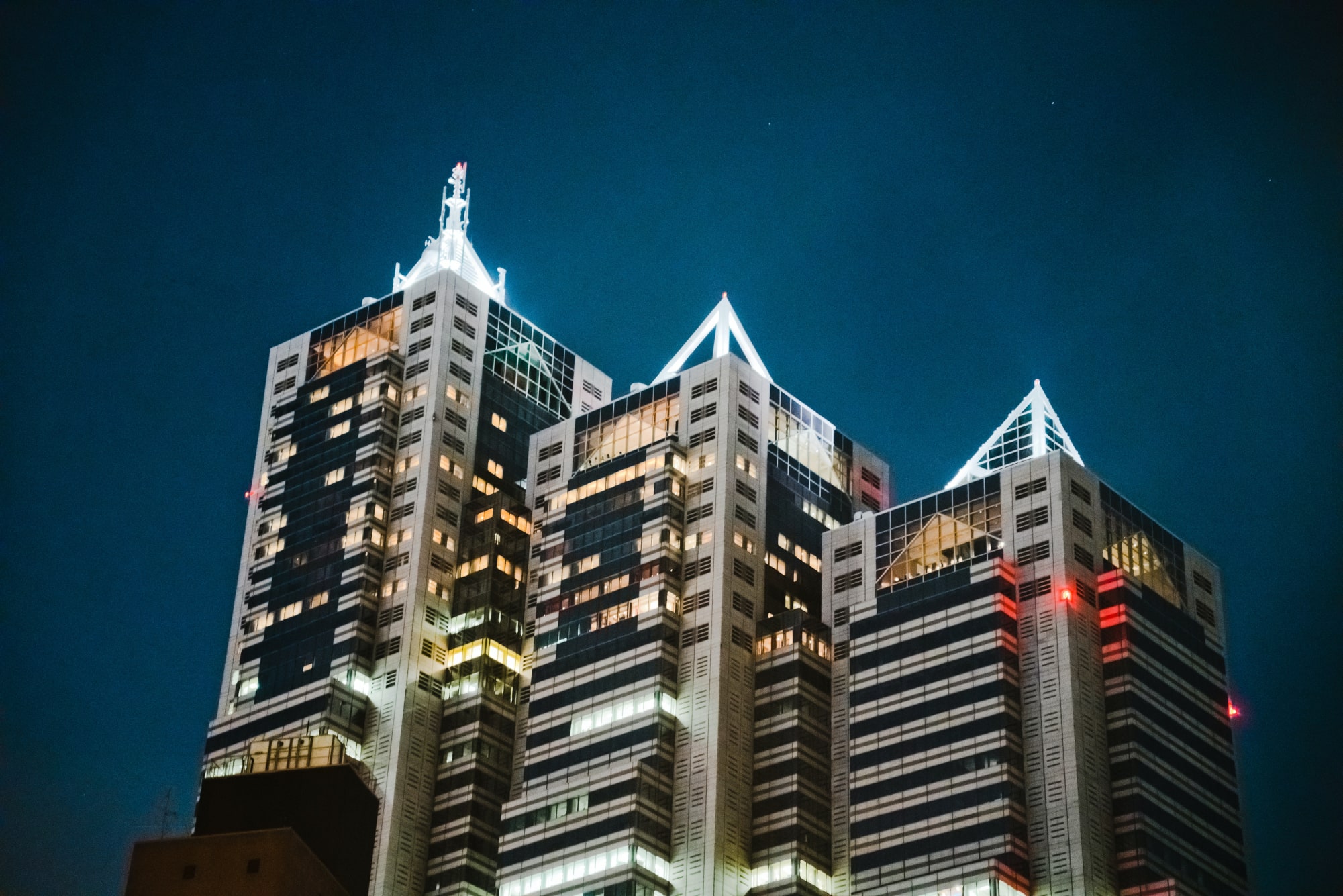 Business Hotel (ビジネスホテル)
Business hotels are perfect for those who don't want to spend so much money. There are several hotel chains such as Dormy Inn, Toyoko Inn, and Route Inn offering affordable rooms covering all the basic needs in many Japanese cities. Its prices are much cheaper, about $40-$80/night.
These hotels were made to be convenient, are well-located in central areas, and are close to train stations. Nevertheless, their rooms are usually smaller than a European hotel, so don't be surprised if you have a feeling of a lack of space.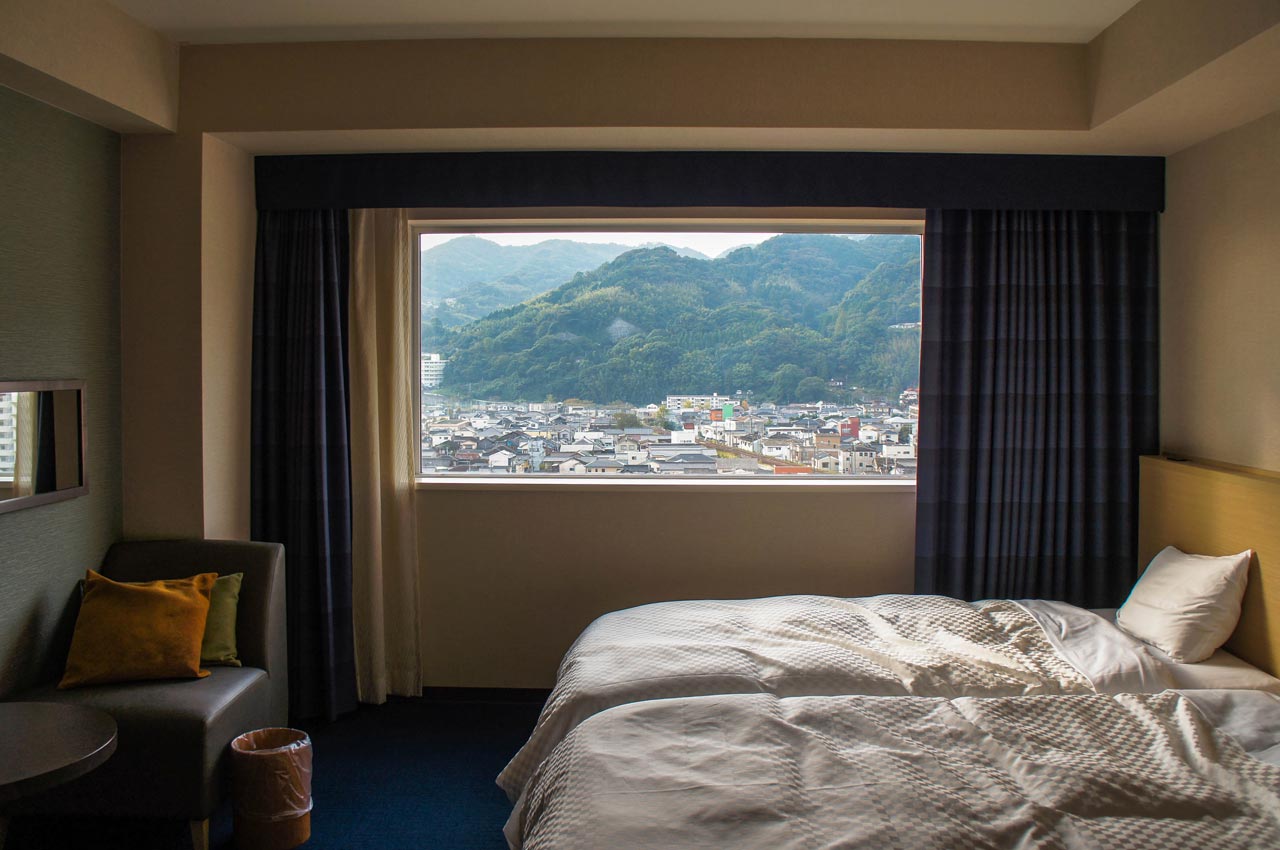 Hostel (ホステル)
If you want even more economical accommodations, you can try a western or Japanese-style hostel. In this accommodation, you may share all the facilities with other travelers, including bathrooms and rooms (usually separated by gender). They tend to be quite dynamic, as the usual clients tend to be young people. It is the ideal place for solo travelers who want to meet people. Prices range from $10-$40/per night.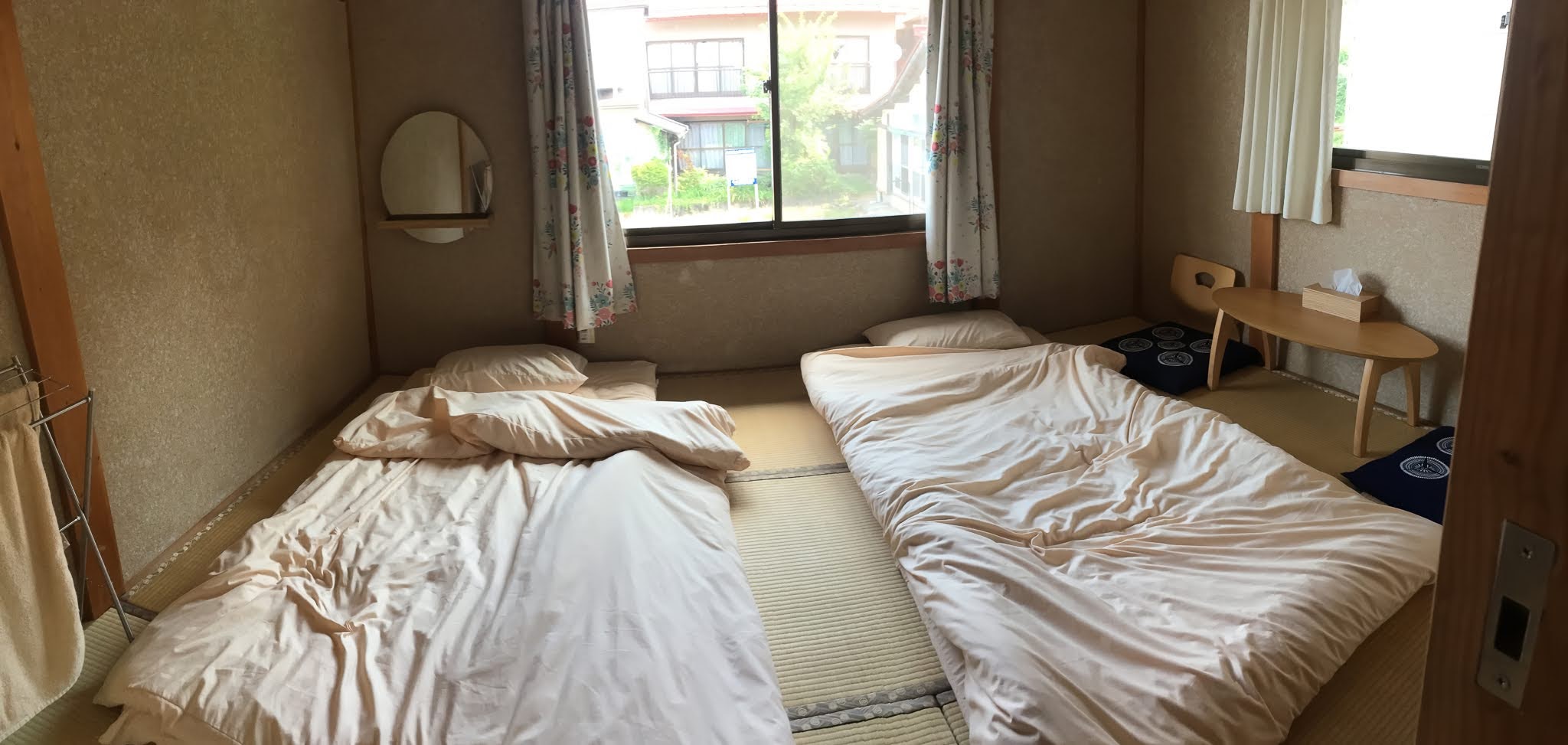 Resort hotel (リゾートホテル)
These hotels, located near the mountain or the beach, are aimed at contemplative tourism for guests who prefer a quiet vacation or families with children.
Resort rooms in Japan offer all kinds of amenities such as shampoo, soap, free coffee, and tea, as well as incredible sights. Half board is usually included for meals at their restaurants. Besides, they have many leisure activities like onsen, souvenir shops, karaoke, and game centers, and for an extra fee, you can also do activities near the resort.
Normally, foreign tourists don't stay in these accommodations unless they want to do a specific activity, such as diving or skiing, but they are very popular among the Japanese.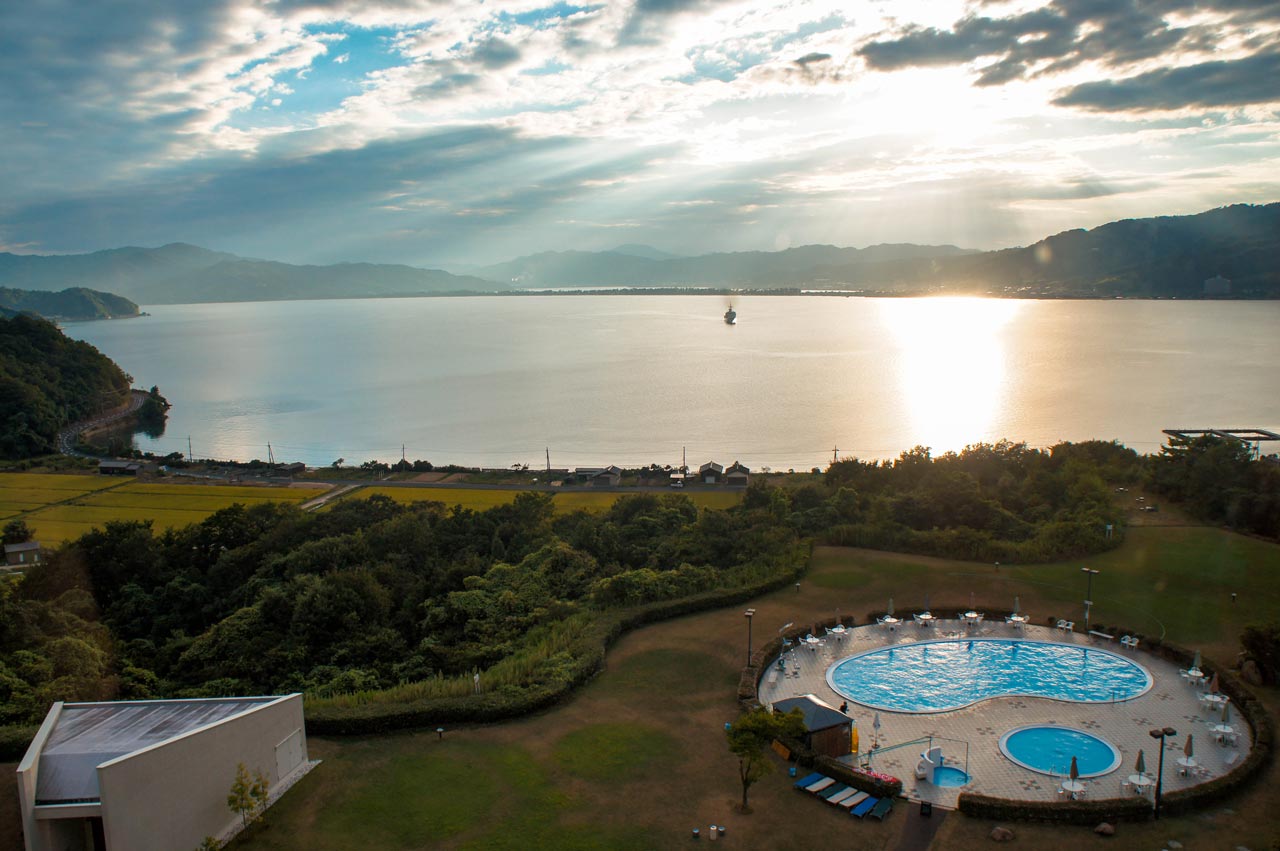 As an example of a resort, we have Suginoi Hotel in Beppu (Oita Prefecture), with hot springs, swimming pools, bowling, and game centers. There is also Luigans Resort in Fukuoka city, which has a swimming pool and is located near the beach. They offer yoga or beauty treatments, and they have an aquarium and a park nearby. There are also luxury resorts such as ANA Intercontinental Beppu Resort & Spa, located also in Beppu.
Prices tend to be between $100- $300/per night, expert the high-end hotels, which can reach $1000/per night.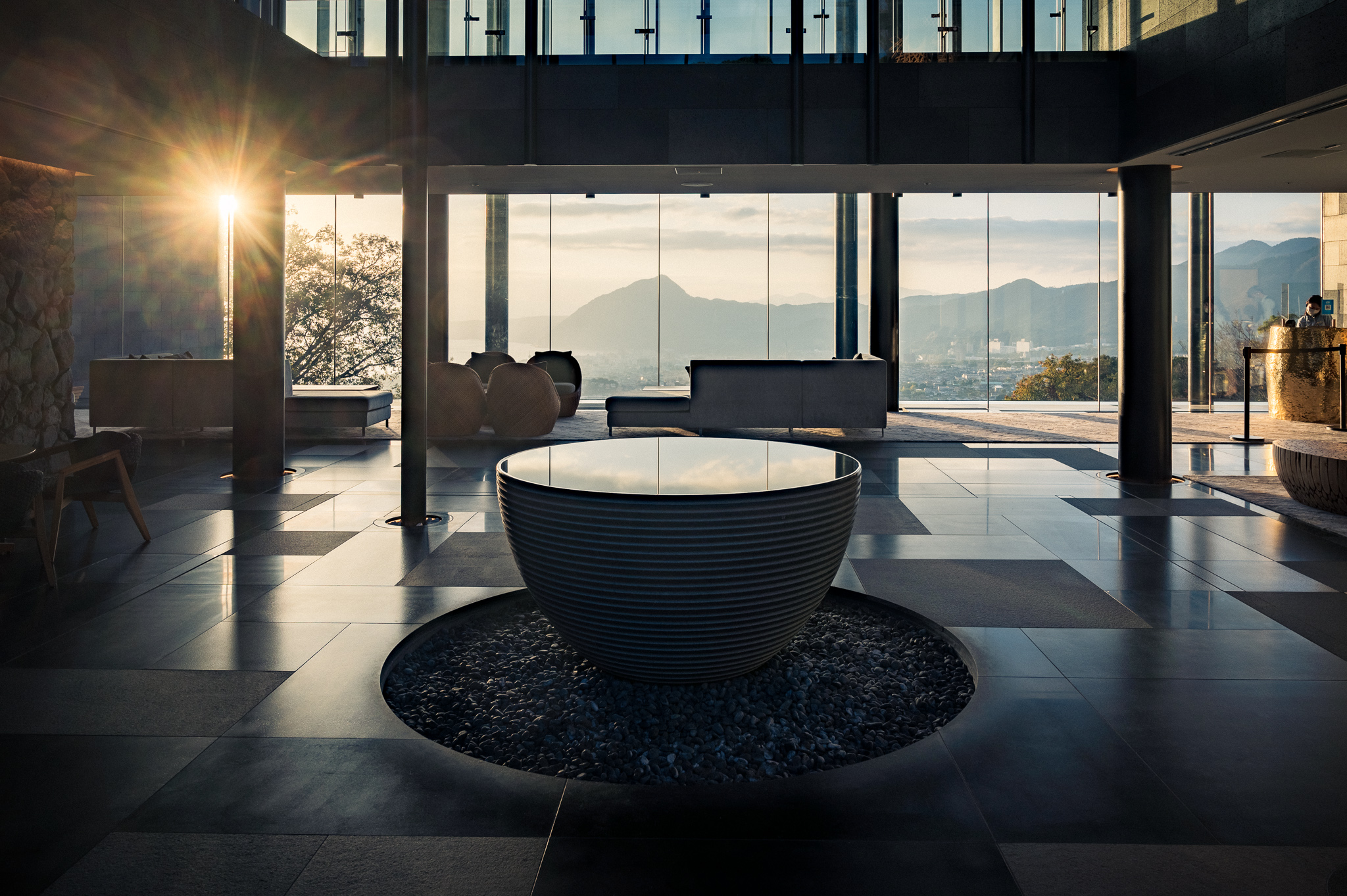 Pension (ペンション)
If you are traveling to onsen areas or ski resorts, you might not find western hotels. If you want to stay in a low-budget western-style accommodation, consider trying a pension. These guesthouses are western-style buildings run by families. They usually have a few rooms and bathrooms, and they can be private or shared. They also include dinner and breakfast served in the pension dining room, made with local products.
Here you have a list of pensions located in various prefectures (in Japanese), that usually costs between $50-$90. We visited Refre Inn Fukuza in Iiyama (Nagano Prefecture).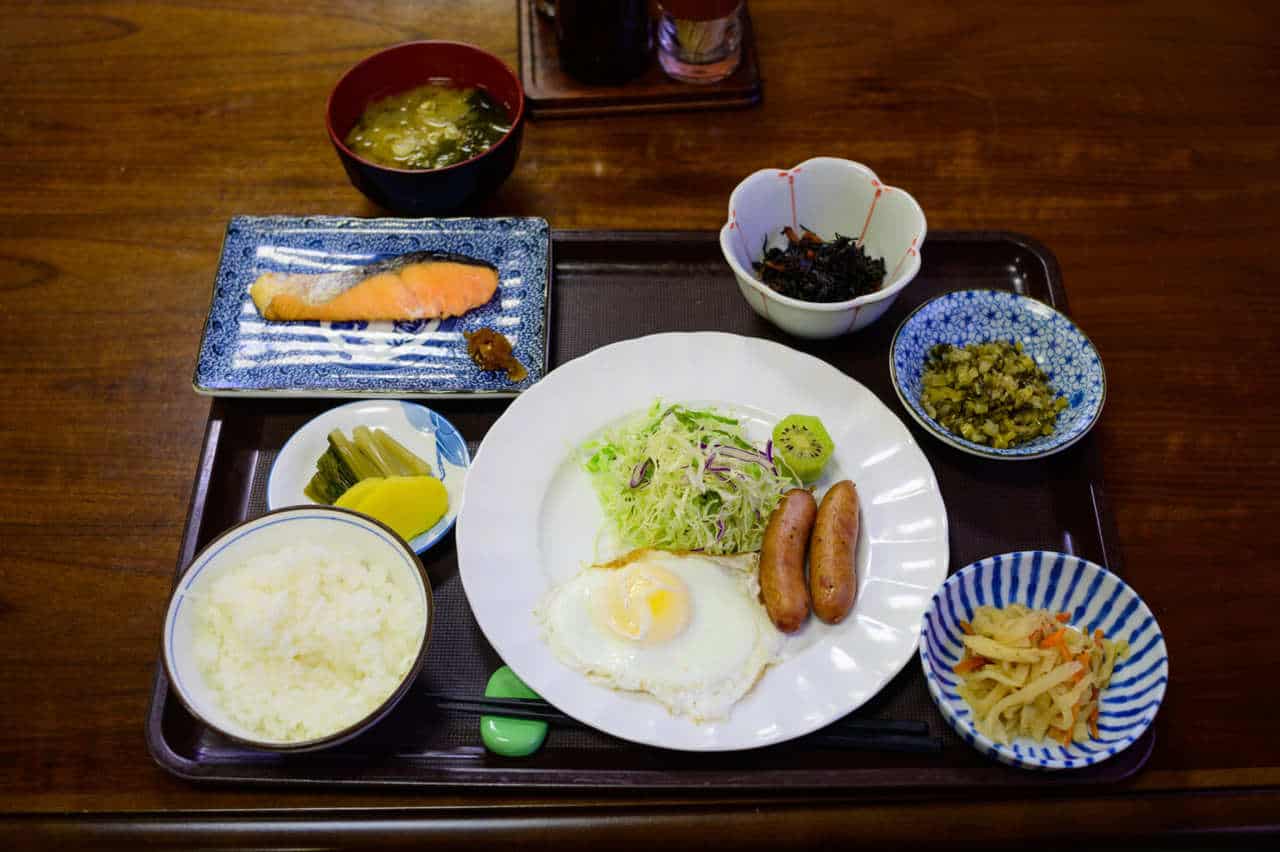 Guest House (ゲストハウス)
Also known as shared houses, this kind of accommodation in Japan is affordable if you stay one month or more in a city. It consists of renting a (usually) private and furnished room. The rest of the house is shared with the other housemates. There is also often a cleaning service for the common areas. You can find different companies dedicated to renting these seasonal accommodations to foreigners, such as Fontana or Sakura House.
The price varies greatly depending on the location and the size of the room, but you could find shared houses for $500 per month in a Tokyo neighborhood or even $300 per month if the room is shared.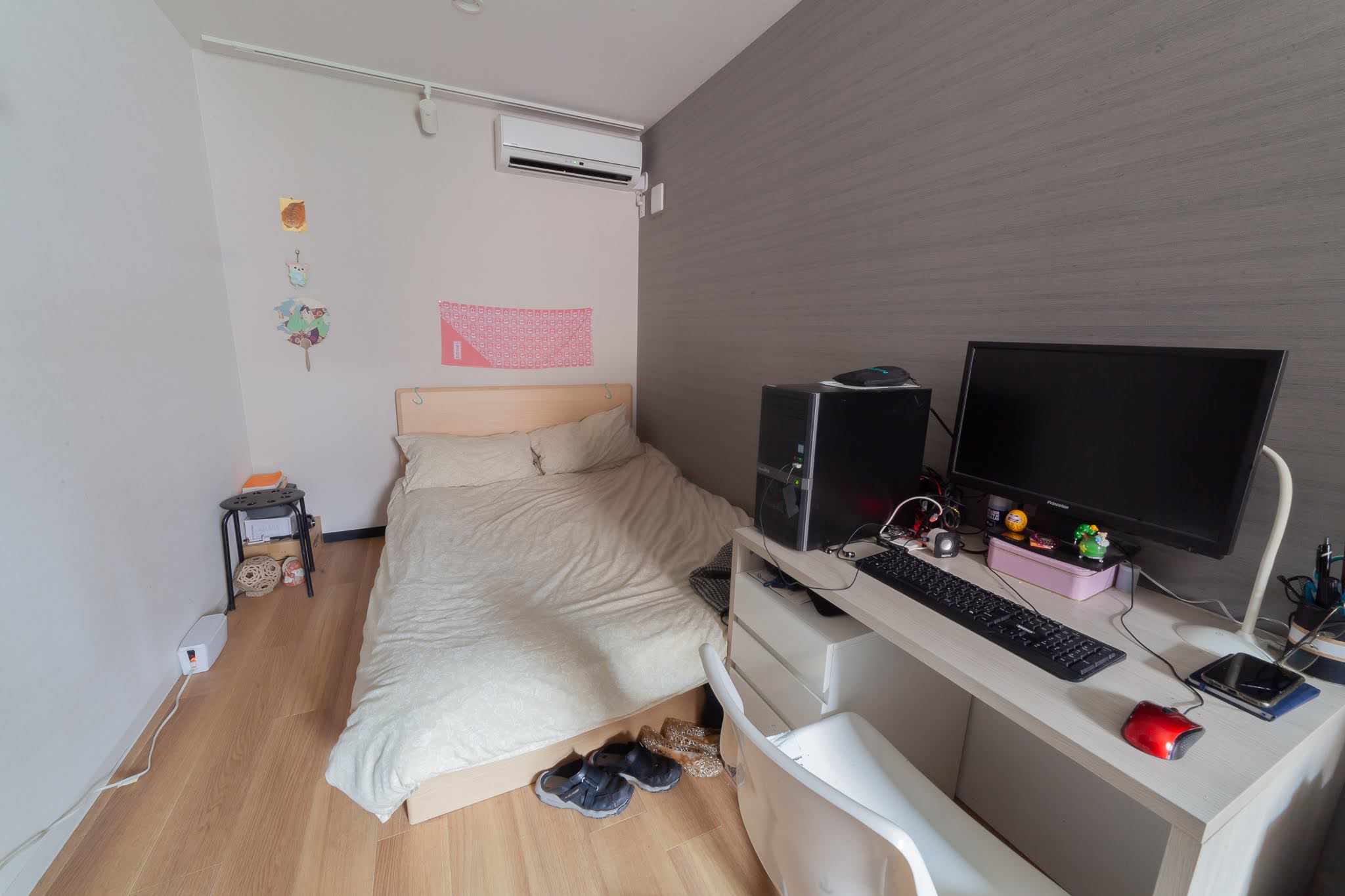 Camping (キャンプ)
If you have an adventurous spirit, and you want to travel all over Japan, you can consider staying at a campsite, as there are many spots suitable for camping in nature. You can read our article about how to camp in Japan, but if you are already convinced, we recommend you rent private transport to travel more freely. One option is to rent a camper van or a car. There are several options, but remember to check beforehand how to drive in Japan and its requirements.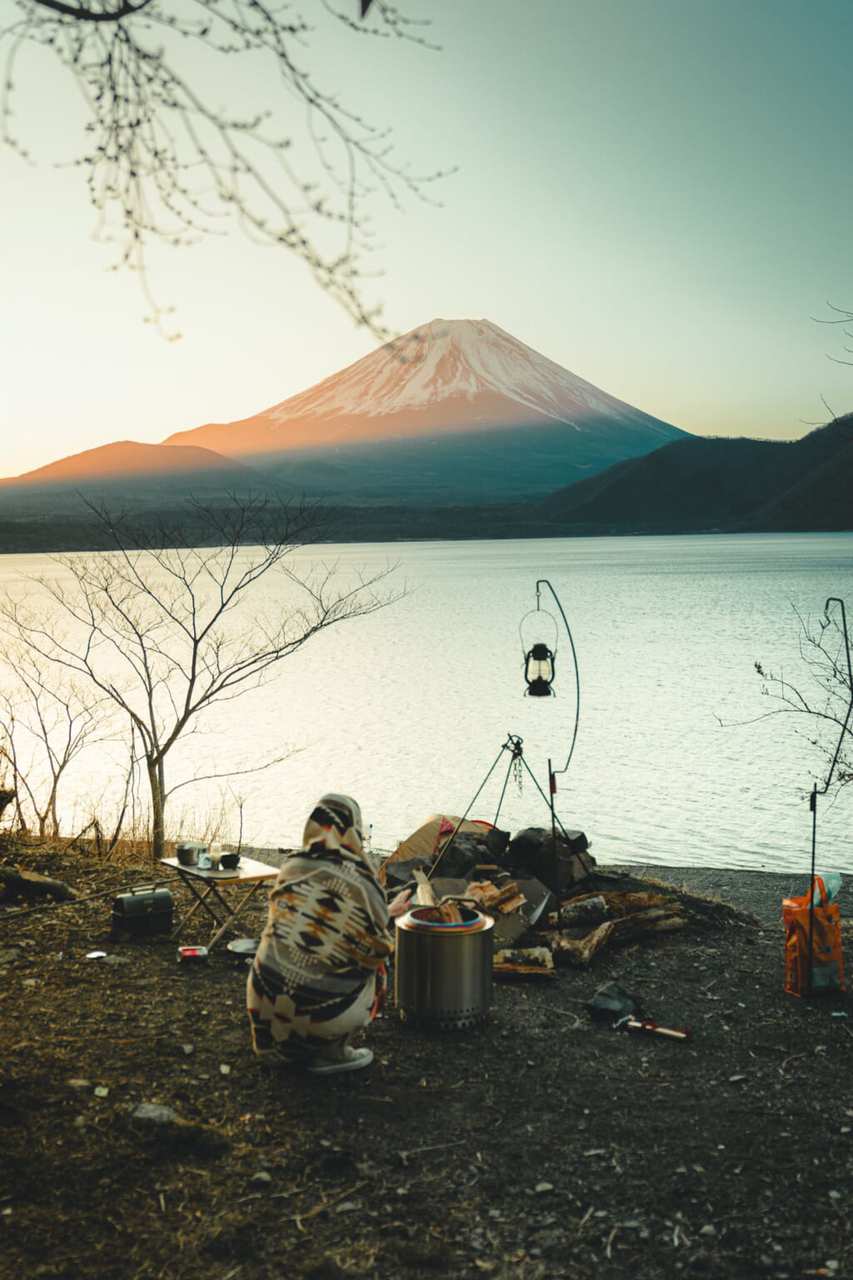 Traditional Accommodations in Japan
In this section, you will learn about traditional Japanese accommodations, perfect for experiencing Japanese culture.
Ryokan (旅館)
A ryokan (旅館) is the quintessential Japanese lodging. The rooms in this traditional hotel, which can be mid-range or high-end, have tatami floors, sliding doors, and futons. They offer an unparalleled dinner and breakfast, usually kaiseki food. A ryokan is a mix of Japanese culture and gastronomy with relaxing touches with its hot springs. They are usually located in quiet and natural spots, although little by little the concept is changing towards the cities.
Some of the ryokan we have visited are Sanso Tensui in Hita (Oita Prefecture), Zenzo ryokan in Kumamoto Prefecture, Onogawa Onsen Kajikaso in Yonezaka (Niigata Prefecture) or Nakamuraya ryokan in Iizaka Onsen (Fukushima Prefecture) among others. Their prices vary greatly depending on the quality of the establishment. There are inexpensive ryokans from $80 per night, while luxury ryokans can reach up to $1000 per night.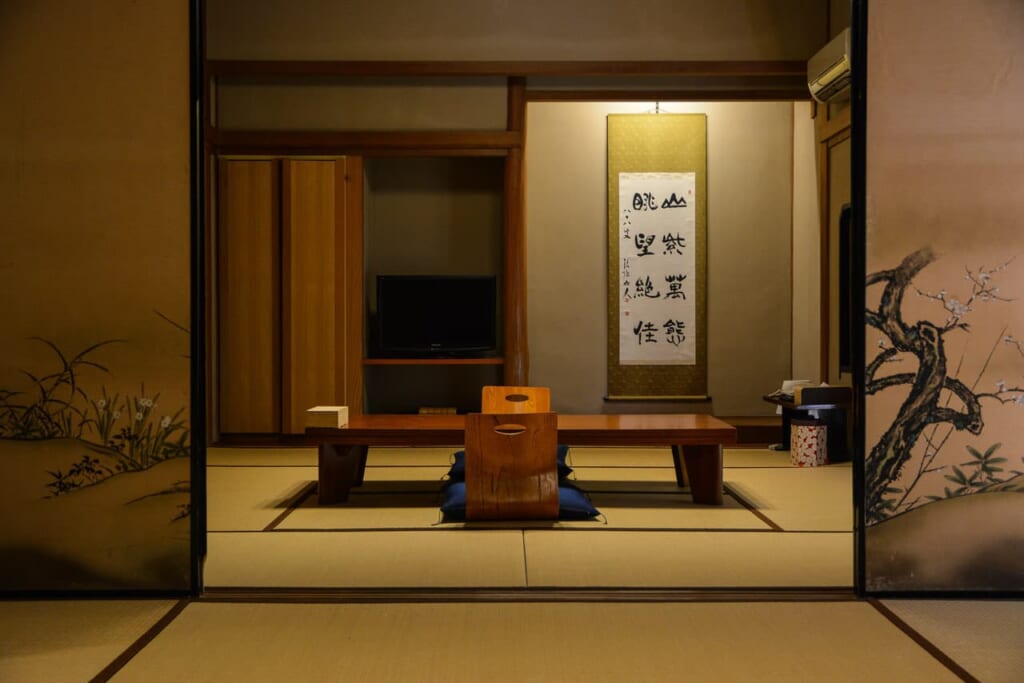 Minshuku Guesthouse (民宿)
If you don't have enough budget to pay a ryokan, an economic alternative is a minshuku. Similar to a bed & breakfast, this Japanese-style lodging offers a traditional experience for a lower price. Their rooms are usually more simple than those of a ryokan, but in many of them, you will have similar experiences, such as wearing a yukata, having dinner and breakfast included, and onsen bath. This type of accommodation is more homely, as they are usually run by families.
Some minshuku we have stayed at are Flora Togari in Iiyama (Nagano Prefecture), Warakuso in Takahama (Fukui Prefecture) and Yodel in Semboku (Akita Prefecture). Their prices can range from $30 to $100 per night.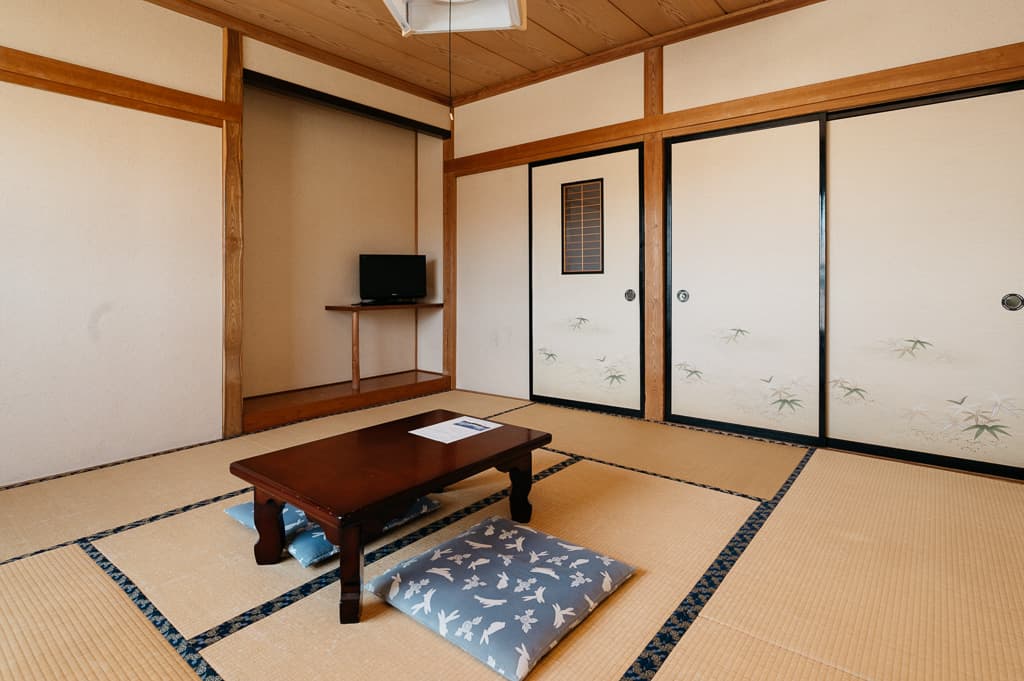 Farmstays in Japan
If you're keen on experiencing Japanese life through the lens of a farming lifestyle, consider a farmstay in Japan.
Noka-Minshuku (農家民宿)
If you like the idea of the minshuku, but you also want to live a rural experience, stay in a noka-minshuku. The lodging system is similar, since the ryokan, the minshuku, and the noka-minshuku need the same license. But the difference lies in the rural experience that you will share with some Japanese farmers. You will be able to do some activities in the countryside, you will cook with them, and do many other daily ctivities.
Some noka-minshuku we visited are Tokutoku Sanso in Kitsuki (Oita Prefecture) and Zaigomon in Takane (Niigata Prefecture). The price varies depending on the area or the activities you want to do, but the average is around $60-$80/per night including meals.
Noka Minpaku (農家民泊)
There is also the option of a noka-minpaku, similar to the noka-minshuku, but this requires other types of licenses. In a minpaku, you get to share the part of a house with a family, and you will experience different activities, above all related to nature and culture. As they are determined by the local government, the rates are different in each area.
I could experience a noka–minpaku at the Yuyuan samurai house with Mr. Katsuhiko and Mrs. Sachiko in Kagoshima Prefecture. There they showed me their private vegetable garden, its most precious Buddhist temple in the area, and we cooked dinner together.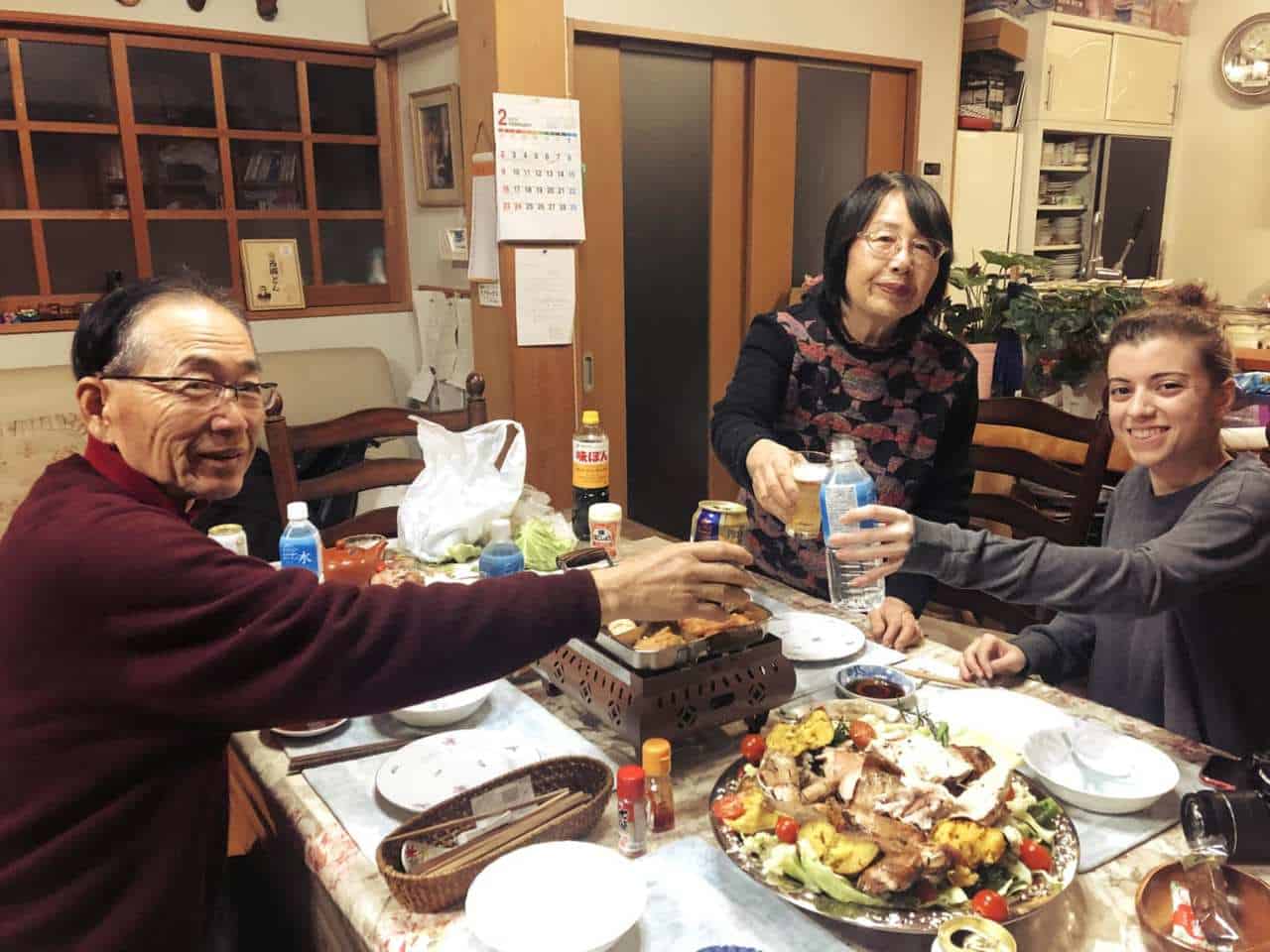 Rent a Traditional Japanese House
If you are traveling in a large group or with your family, you can go back in time by staying in a machiya o kominka. Both are traditional-style accommodations that can be rented fully. Despite this, they have some differences:
Machiya are centrally located houses, evenly aligned on a street. Its front side used to be a shop and the back area of the house is where the family used to live. Nowadays, some of them are accommodations. One famous machiya is located in Murakami (Niigata Prefecture).
Kominka are old wooden houses that have been restored following traditional Japanese techniques and rules such as not using nails. We have stayed at Yanoya kominka on Ojika island (Nagasaki Prefecture) and Atagoya, a marvelous kominka in Hamamatsu (Shizuoka Prefecture).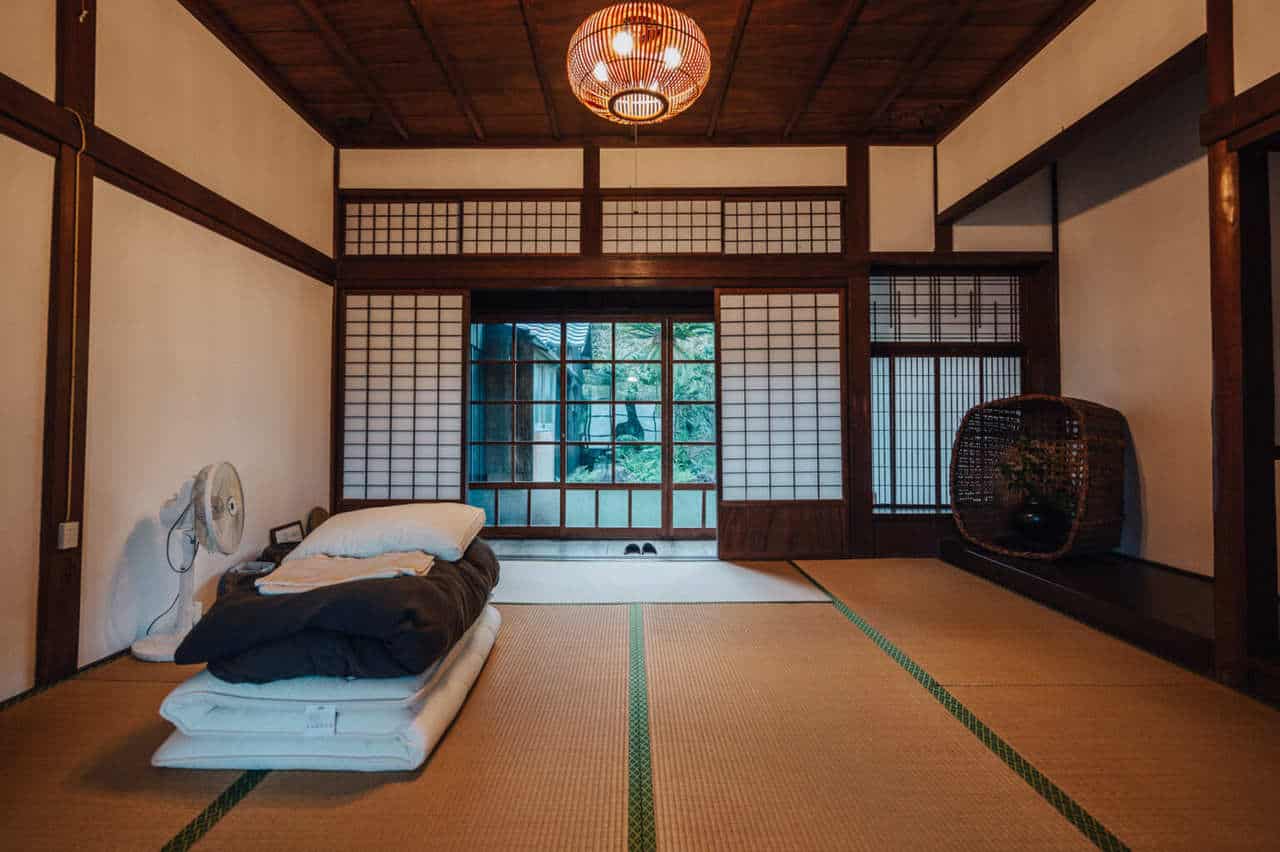 Temple Lodging
The last traditional accommodation that we want to recommend to you is called shukubo (宿坊), which means temple lodging. Whether you are a pilgrim or a curious traveler, you can stay one night at a Buddhist temple in Japan. You can participate in different activities such as meditation with the monks in the early morning or participate in its sutra copying sessions. Moreover, this is a perfect option for vegans, as you can enjoy the shojin ryori, the Buddhist monks' vegetable-based cuisine. Like in many other lodgings, you will sleep in a futon, share bathrooms and the price will include a vegan dinner and breakfast.
One of the most well-known places to stay is in Koyasan's Buddhist temple, where there are 51 shukubo. Prices may vary depending on the location, but range between $50 and $100.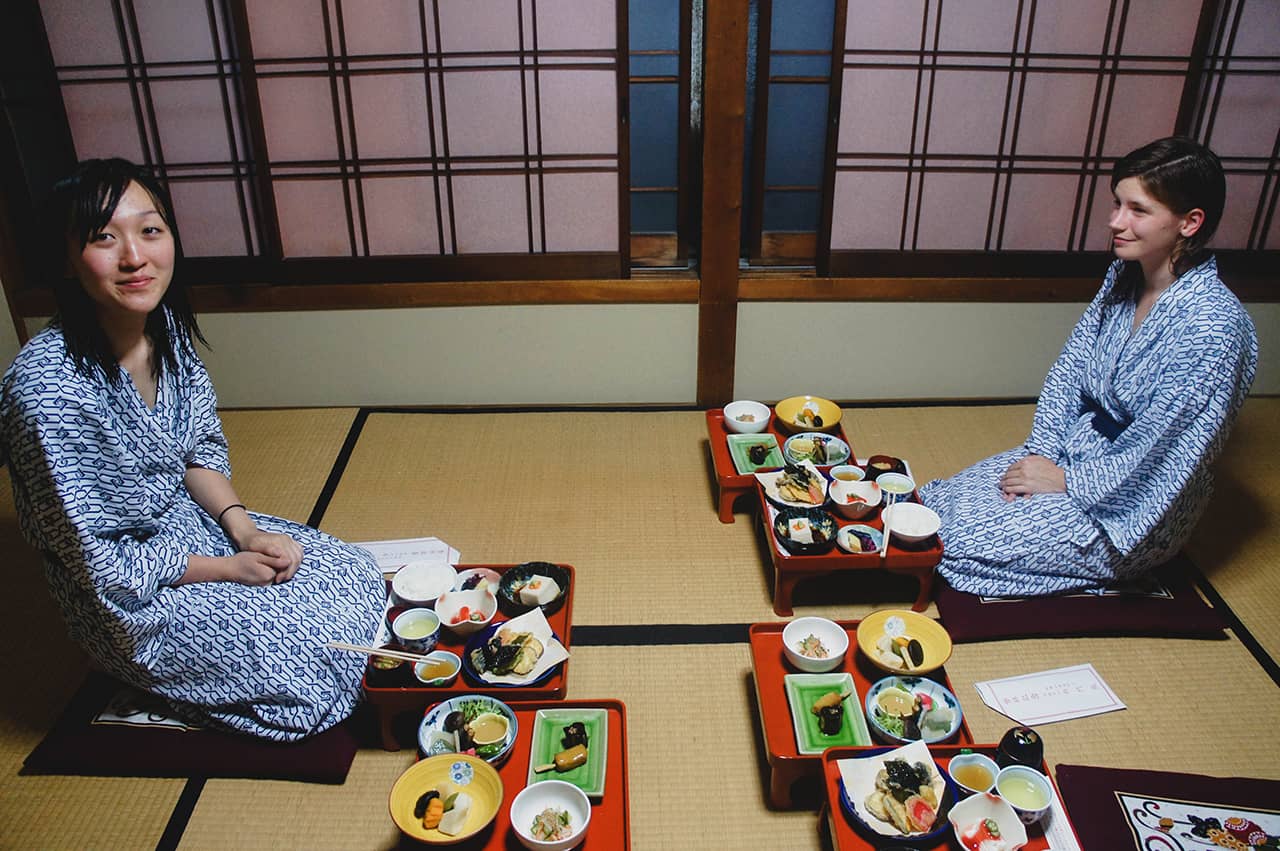 "Only in Japan" Accommodations
Although you can find these hotels in many countries, they are particularly popular in Japan.
Love Hotel (ラブホテル)
Love hotels are commonly known as dark places where lovers fulfill their inner fantasies. But realities go beyond this. They are also economical accommodation for long-distance couples or for travelers.
These hotel rooms can be rented either hourly or all night, with some rented for several nights. The only requirement to stay in this hotel is to be over 18 years old, and in some establishments, you will be asked to be accompanied by another person. They are usually located near train stations and inside the rooms, you will find all the essentials, and you can even order food. In Tokyo, there are many love hotel areas such as Shibuya and Uguisudani.
There are two ways to stay in a love hotel: make an online reservation through a hotel search engine (you will identify them because in the title it says "adult-only"), or go to the hotel directly and ask for a room. We recommend you to make a reservation in advance as you might not find room the day you will need them.
The prices of these hotels vary but can cost from $50 to more than $100 per night.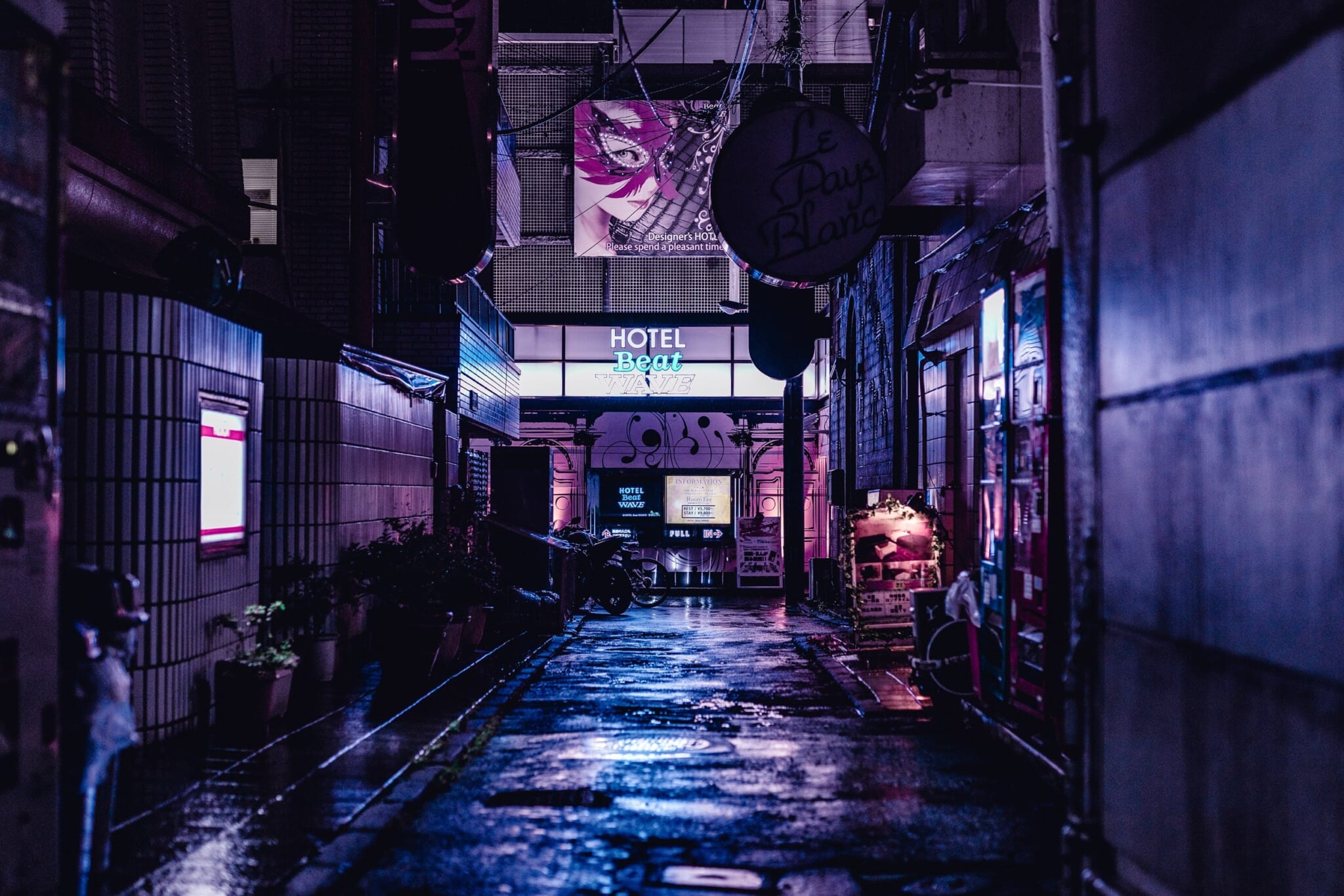 Capsule Hotel (カプセルホテル)
The world-famous capsule hotels are small capsules that serve as accommodation. These accommodations are also located near train stations, often used by people who have missed the last train. Capsule hotels can also be helpful if you don't want to get up early the next day: if you have to go to an airport early in the morning, stay in one of them, and you will be able to sleep longer!
Inside the capsule, there is a futon/mattress, an alarm clock system, a small TV, an internet connection, and a door or curtain to separate you from your neighbors. Don't eat or drink inside the capsule so as not to bother anyone, and instead use outer relaxation and lounge areas. There are washing machines and shared bathrooms. Many of the hotels are segregated by sex.
Also, in many capsule hotels, you are only allowed to stay one night. Even if you can book several in a row, you will most likely be checked in and out every day. Therefore, we recommend using these hotels once for the experience.
Prices are usually not very high, about $40 per night, depending on the place and the type of amenities offered.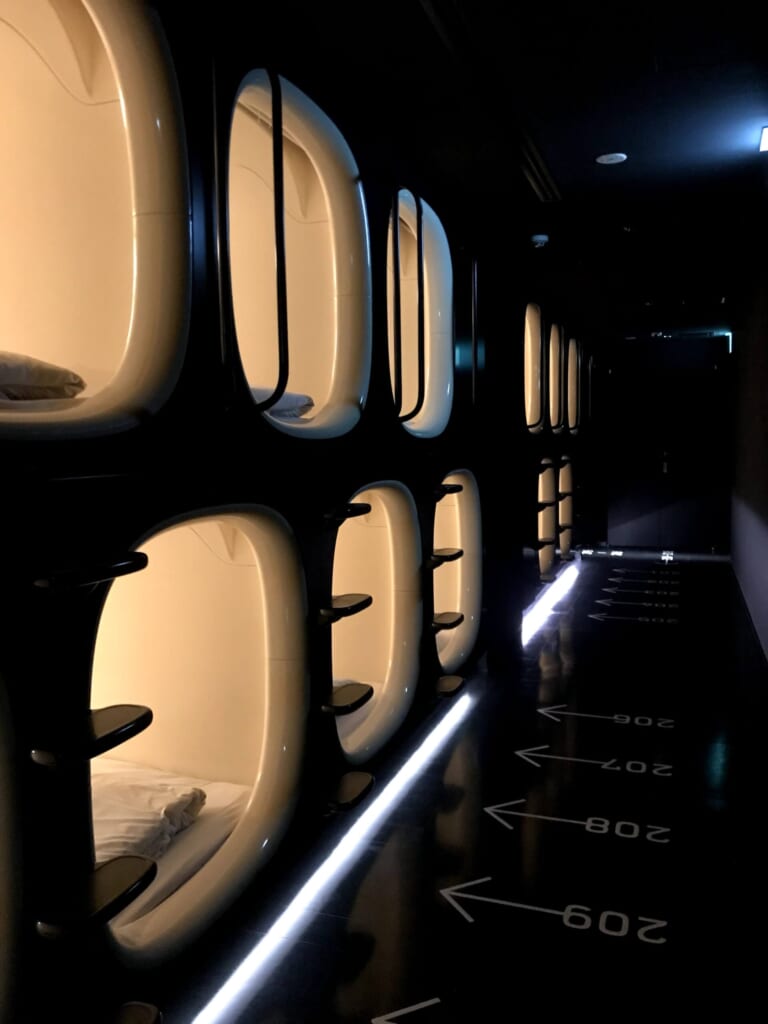 Manga Kissa (マンガ喫茶)
An economical and Japanese style alternative is to stay in a manga café or manga kissa. It consists of a space with many books and unlimited internet where you can spend your day, or even all night, reading while having a drink. Its private rooms are small cubicles that often have a desk and a reclining seat, a tatami floor, or a mat. There are also double or family rooms.
This accommodation is designed for those who only stay one day in the city. Prices vary depending on the area, but usually, 8 hours of accommodation are about $15 to $30.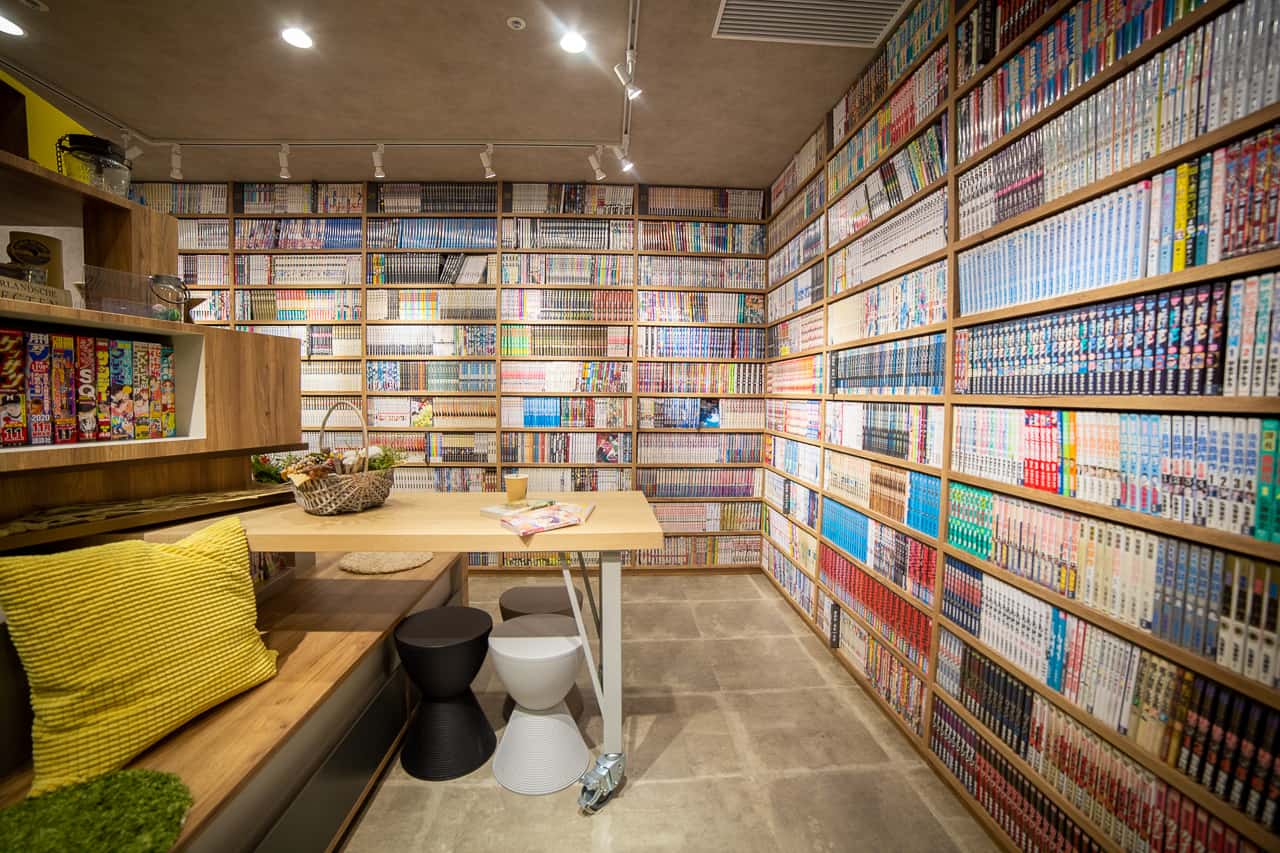 Other accommodations in Japan
Are the above accommodations still not appealing? Consider these other accommodation options in Japan.
Couchsurfing (カウチサーフィン)
Couchsurfing is a modern alternative for those who want cultural immersion and almost free lodging. Currently, the Couchsurfing website asks for a contribution to register: $13.99 per year or $1.99 per month. Within this site, there are hosts that offer their sofas, beds, or empty spaces to travelers. You have to contact them and wait for their approval. For more information about Couchsurfing, check out our article!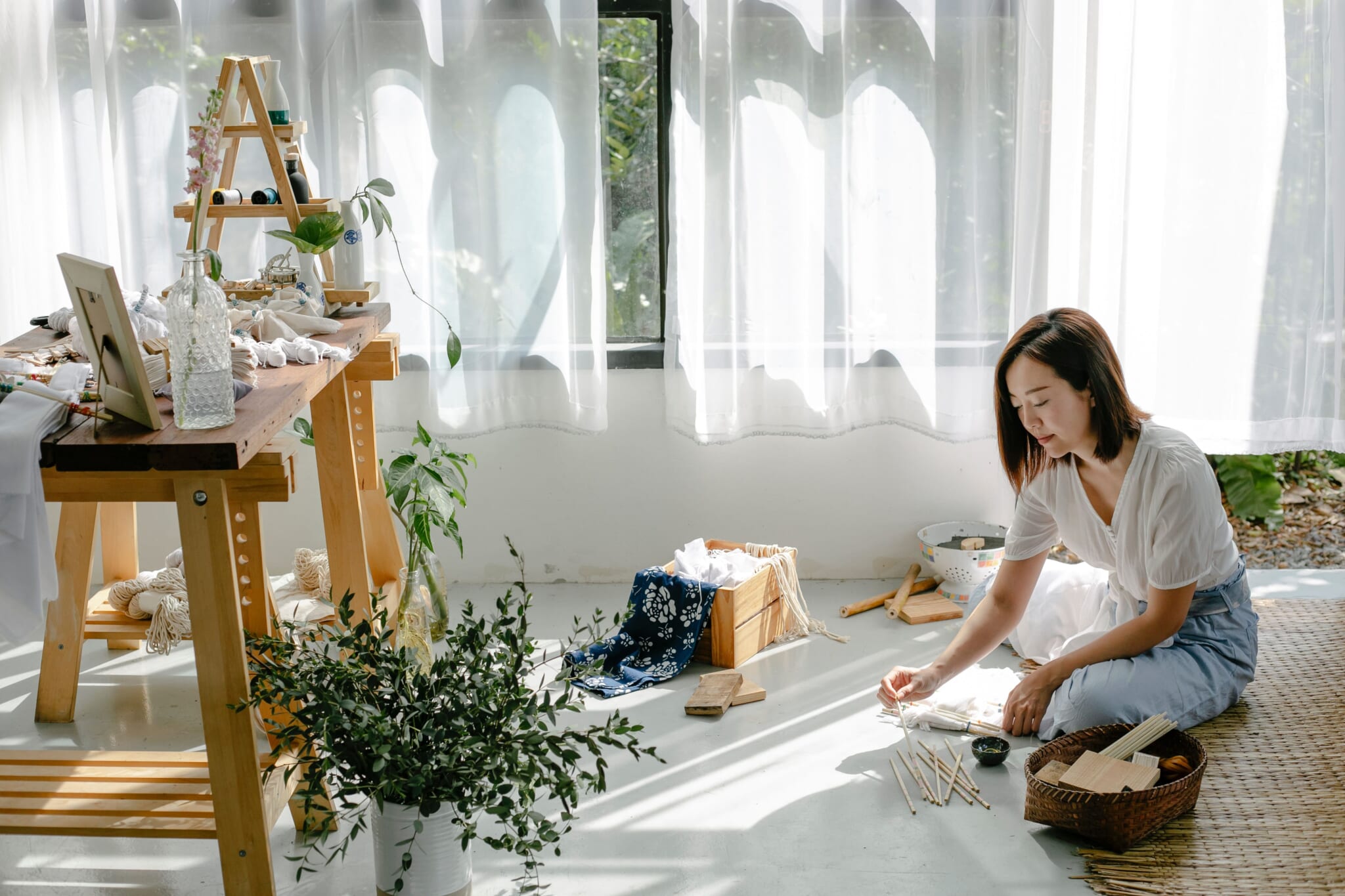 Airbnb 
Airbnb is a renting system of rooms or houses for travelers. In order to stay in one of these accommodations, you have to register on the website, contact the host and wait for their approval. There is a system of reviews that you can use to guide you in choosing your accommodation. It is a good option for families or people that want to stay in a private house during their stay.
Is Airbnb allowed in Japan?
In recent years, this platform has had problems in some cities. As far as Japan is concerned, since 2018 there are new laws to legalize Airbnb, which oblige hosts to register and obtain a license. During that year all unlicensed apartments were deleted and right now only those that comply with the new regulations appear.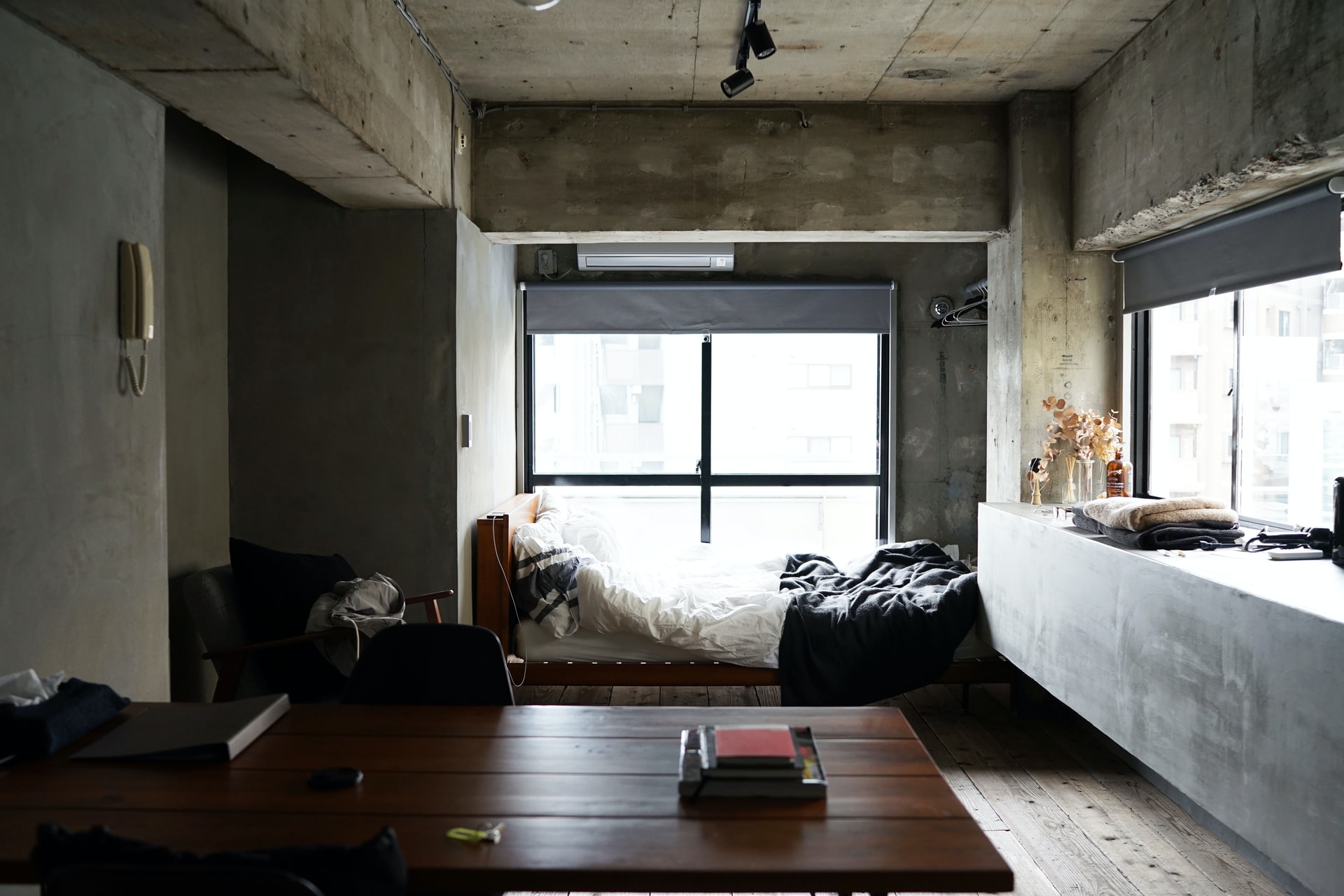 Volunteering and exchange
There are websites that gather all those people who need help in farms, hotels, and other establishments. In exchange, they offer free accommodation (and sometimes food). Currently, it is necessary to have a valid residence in Japan to do some types of volunteering:
Workaway: To be able to contact the hosts, you will have to pay $43 per year.
Worldpackers: To be able to contact the hosts, you will have to pay $49 per 15 months.
HelpX: To be able to contact the hosts, you will have to pay 20€ every two years.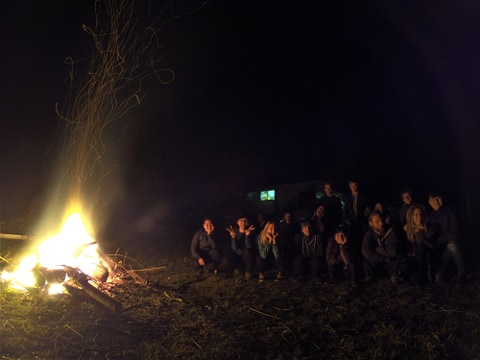 Night Bus
If you want to travel and save money, moving around Japan by night bus is a good alternative. The night buses are adapted so that users can sleep at night on the bus and wake up the next morning at their destination. With the same ticket price, you can have "one-night accommodation" for free. Of course, the comfort of the bus can't be compared to a bed, so this is recommended for people who can sleep anywhere or people with a lot of energy.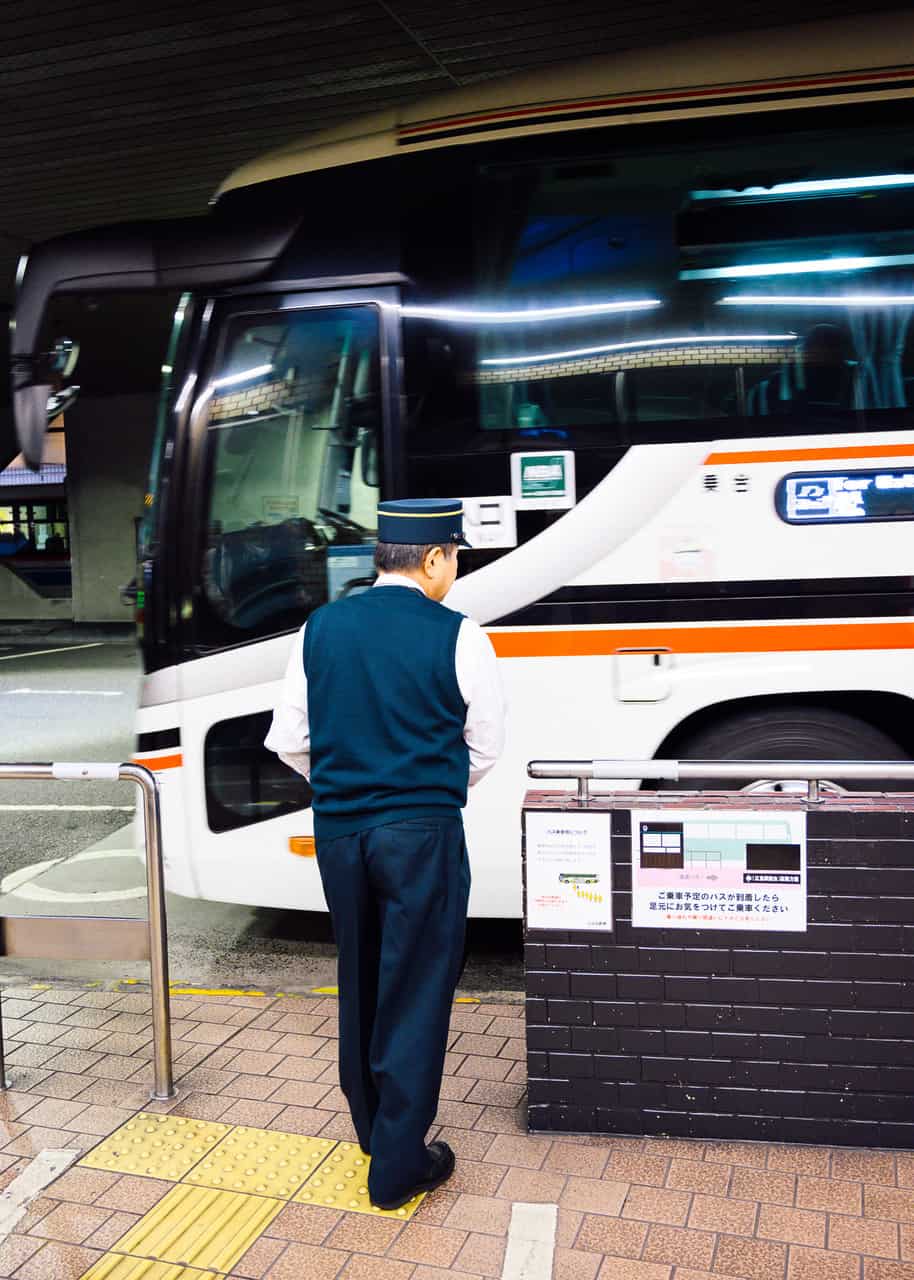 With this variety of accommodations in Japan, you can now decide what type of lodging that's right for you. We hope you enjoy your stay in Japan!