Hamamatsu is located in the western part of Shizuoka Prefecture. In addition to its abundant nature and breathtaking sceneries, it also has a rich history. During the Edo period, this area was a vital heartbeat as an important stopping place on the Tokaido route, the main historical land route between Tokyo and Kyoto. For this reason, Hamamatsu offers a wide variety of the best traditional Japanese activities and experiences and an infinite number of interesting tourist sites. Nor can we forget its gastronomy, such as the delicious mandarins or the famous unagi (eel), one of the favorite and best-valued fish among the Japanese.
Hamamatsu is the largest city in Shizuoka Prefecture and has become an important industrial and economic hub due to the production of musical instruments and cars. Hamamatsu is easily accessible by shinkansen from Tokyo (90 minutes) and Kyoto (60 minutes), making it a perfect and still lesser-known destination for a leisure getaway to discover the charms of this region.
Cruise on Lake Hamana for a Leisure Experience
Lake Hamana (浜名湖, Hamanako) is the tenth-largest lake in Japan and was originally a freshwater lake separated from the ocean. But due to an earthquake about 500 years ago, it became connected to the sea, and its water mixed with seawater. Hamanako is known for eel and oysters, which are the local specialty and can be enjoyed in quite a few restaurants in the area. Many of the attractions of Lake Hamana are concentrated in Kanzanji Onsen, an onsen village where visitors can enjoy different activities and relax in the hot springs.
I arrived at Kanzanji Onsen from Hamamatsu Station by bus. While walking along the main street, I met different groups of people, some dressed in yukata, buying souvenirs, or relaxing in the cafés and restaurants.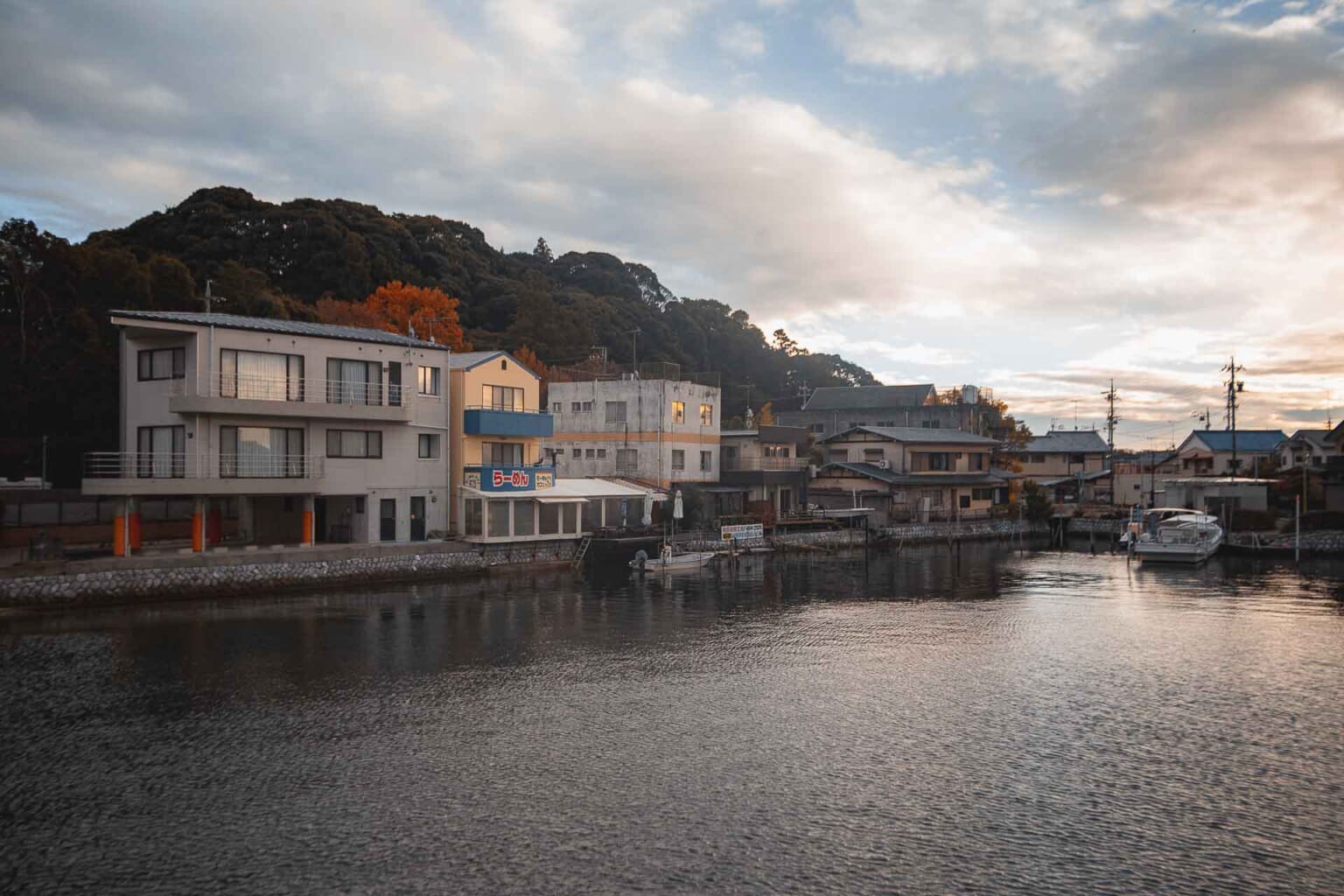 After a pleasant walk, I finally arrived at Kanzanji Port to enjoy a sunset cruise on Lake Hamana. While I was waiting on the boat's deck, a seagull landed on the railing. At that moment, I couldn't have imagined what would happen a few minutes later. As the boat began to move, dozens of seagulls suddenly appeared and flew over our heads to join us during the crossing. My cruise companions were carrying bags with sweets and explained that they usually migrate from Siberia in winter, and it is popular to feed them during the cruise on the lake.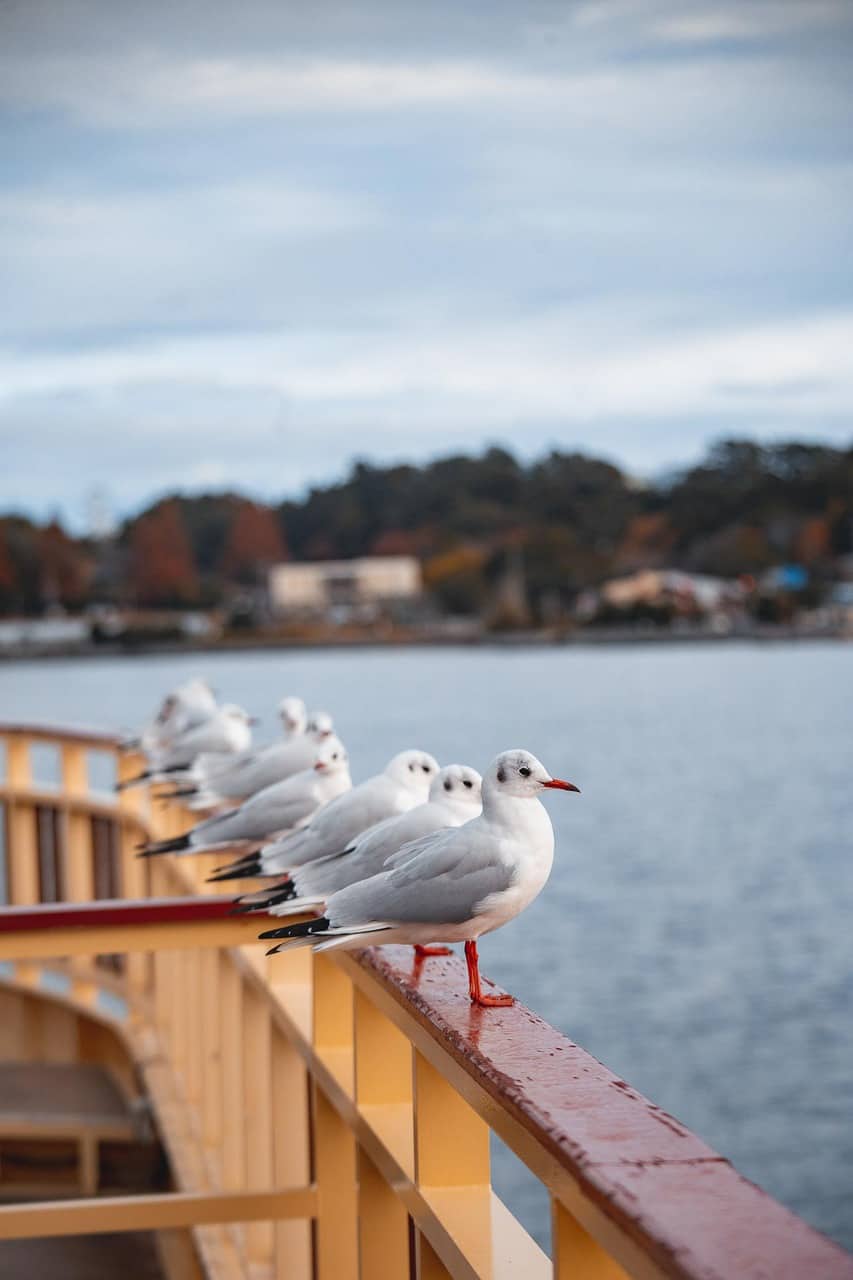 Learn the Traditional Dyeing Art
Hamamatsu region is rich in tradition and culture due to its historical importance. And that is why, even today, there are still traditional workshops and craftsmen who keep practicing ancient crafts. For example, during the Edo period, Hamamatsu was one of the largest cotton producers in Japan. This fostered a group of small family workshops in the textile industry, such as weaving and dyeing workshops.
To prevent Hamamatsu's unique textiles from disappearing, they encourage creating initiatives and projects to generate new products by using the traditional techniques practiced by the weaving and dyeing artisans. In addition, these workshops offer activities for visitors to experience these ancient crafts.
Washi Towel Dyeing Workshop in Washi Taoruyasan
One of the things that surprised me the most when I first took a shower in Japan was that people use small towels to wash their bodies instead of a typical sponge bath. But I was even more surprised when I learned that parts of these towels were made of paper. They are called washi taoru and are made of water-resistant washi Japanese paper that is woven with the same technique as the fishing nets that are used to catch fish in Lake Hamana.
These washi taoru have numerous advantages and benefits over conventional bath sponges. They are water-insoluble, long-lasting, and keep their original texture for a long time. In addition, washi removes the excess oil and residues in own skin, improves blood circulation, and gives your skin a revitalizing scrub. It is also said that washi can absorb smells and dirt. It's all advantages, isn't it?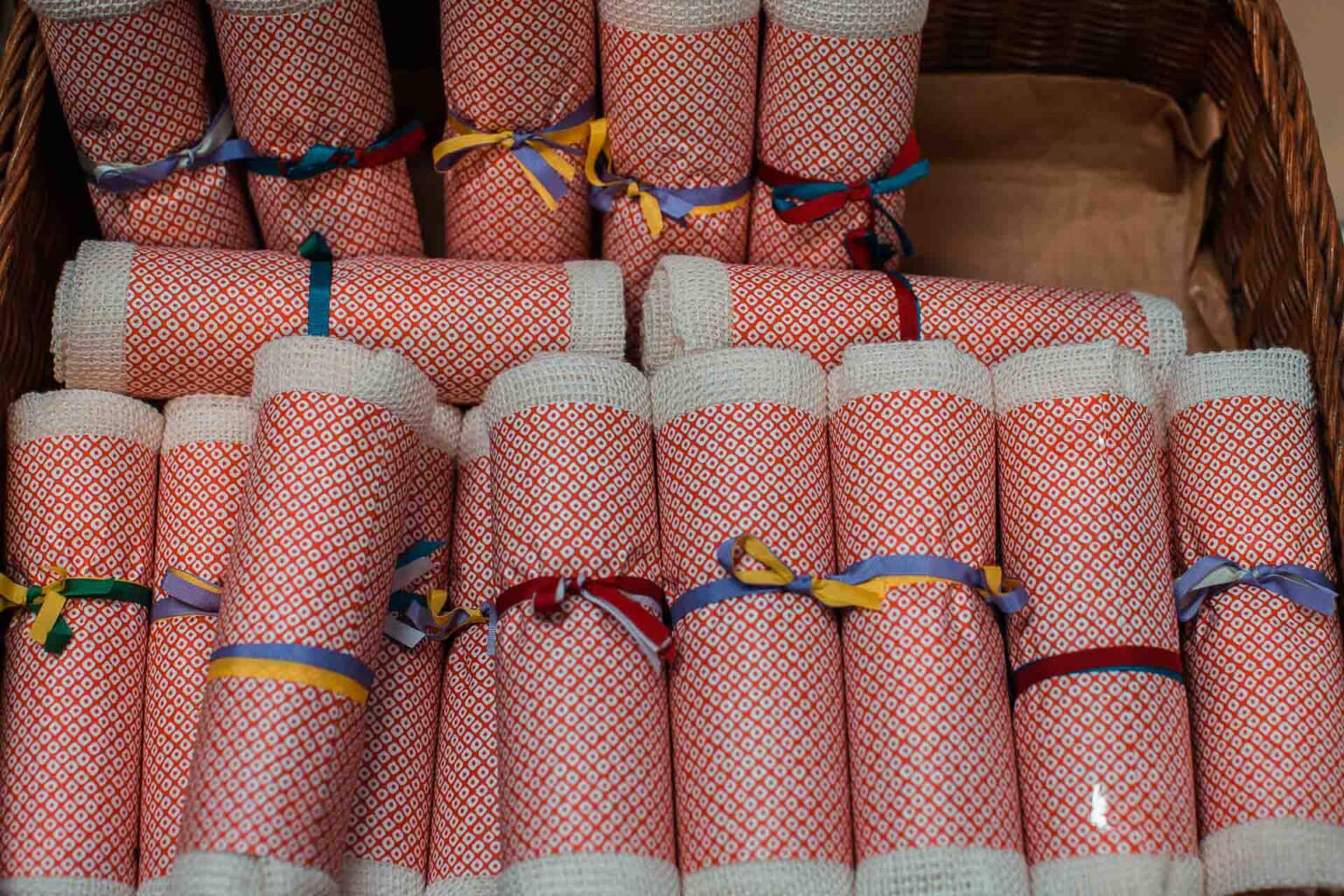 At the Washi Taoruyasan workshop, I was able to see how the artisans carefully weave the washi paper fibers to create a delicate yet sturdy towel. They also showed me the dyeing process in a small kitchen full of pots, where the artisan mixed the colors, just like a medieval alchemist. The result was a towel with an original gradient of orange, yellow, and pink hues I chose and have been using daily ever since.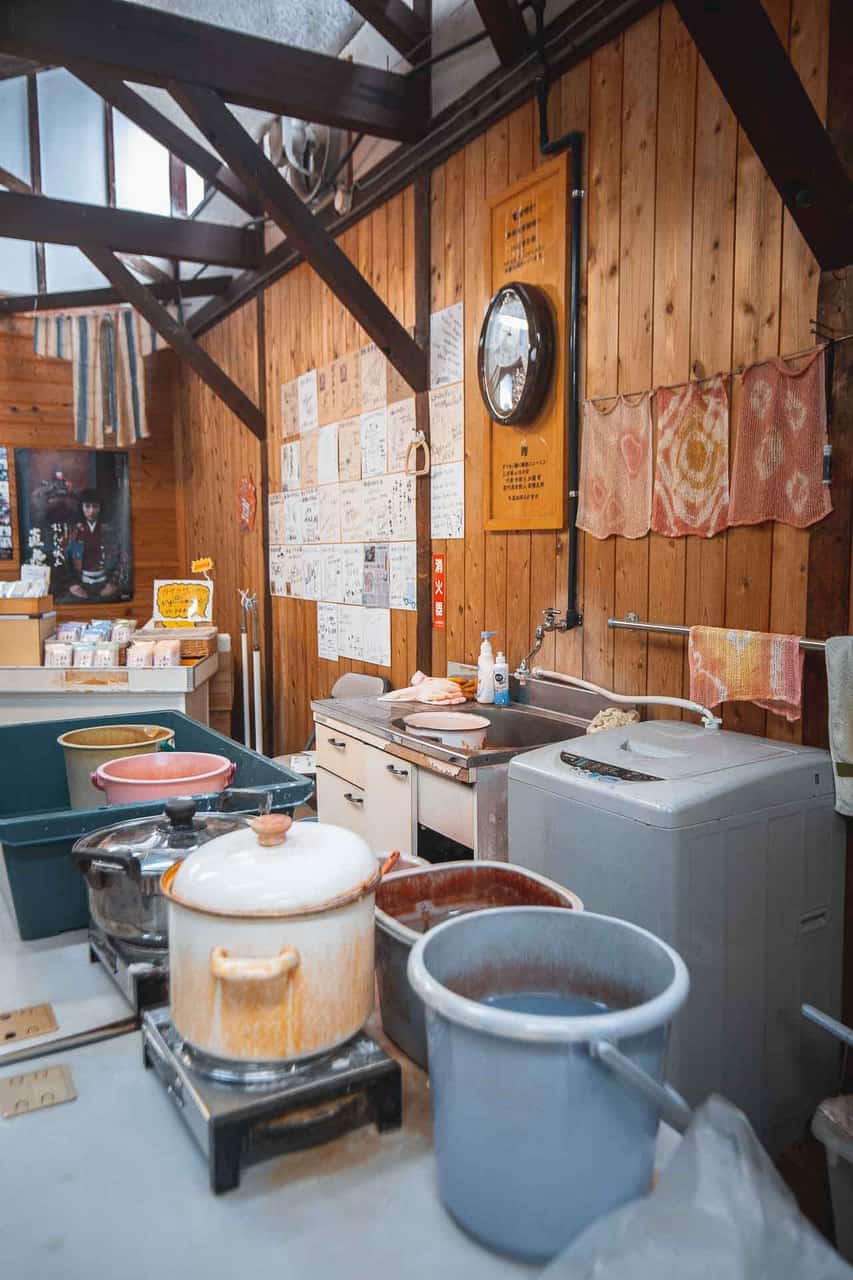 Japanese Traditional Textile Dyeing Workshop in Nihashi Somekoujo
Chusen Some is a traditional Japanese dyeing technique passed down from generation to generation since the mid-18th century. This technique is applied directly to the fabric, making the colors more concentrated, brighter, and vivid.
At the Nihashi Somekoujo workshop, they use this technique to dye various products, especially yukata and tenugui (thin cotton towels). As the artisan showed me the process step by step, I felt that I didn't understand anything. Seeing my puzzled face, he laughed and told me that this was a normal reaction and that I should wait until the last step to understand completely.
We started by placing the chosen pattern on the cotton fabric. Then, using a spatula, we applied a layer of thick gray glue onto the fabric where the pattern was placed. Next, we repeated the process by applying glue to each fold. After that comes the funniest part of the process: the glue encloses the spaces that were covered by the pattern when we applied the glue, so that the colors don't mix when the fabric is dyed. Time flew by as I selected and applied the colors to my tenugui design. When I finally finished, the artisan washed my towel to remove the glue. And here we had my tenugui design, with drawings of the most important symbols of Hamamatsu visible. At that moment, I finally understood the dyeing process that had seemed so complicated to me at the beginning.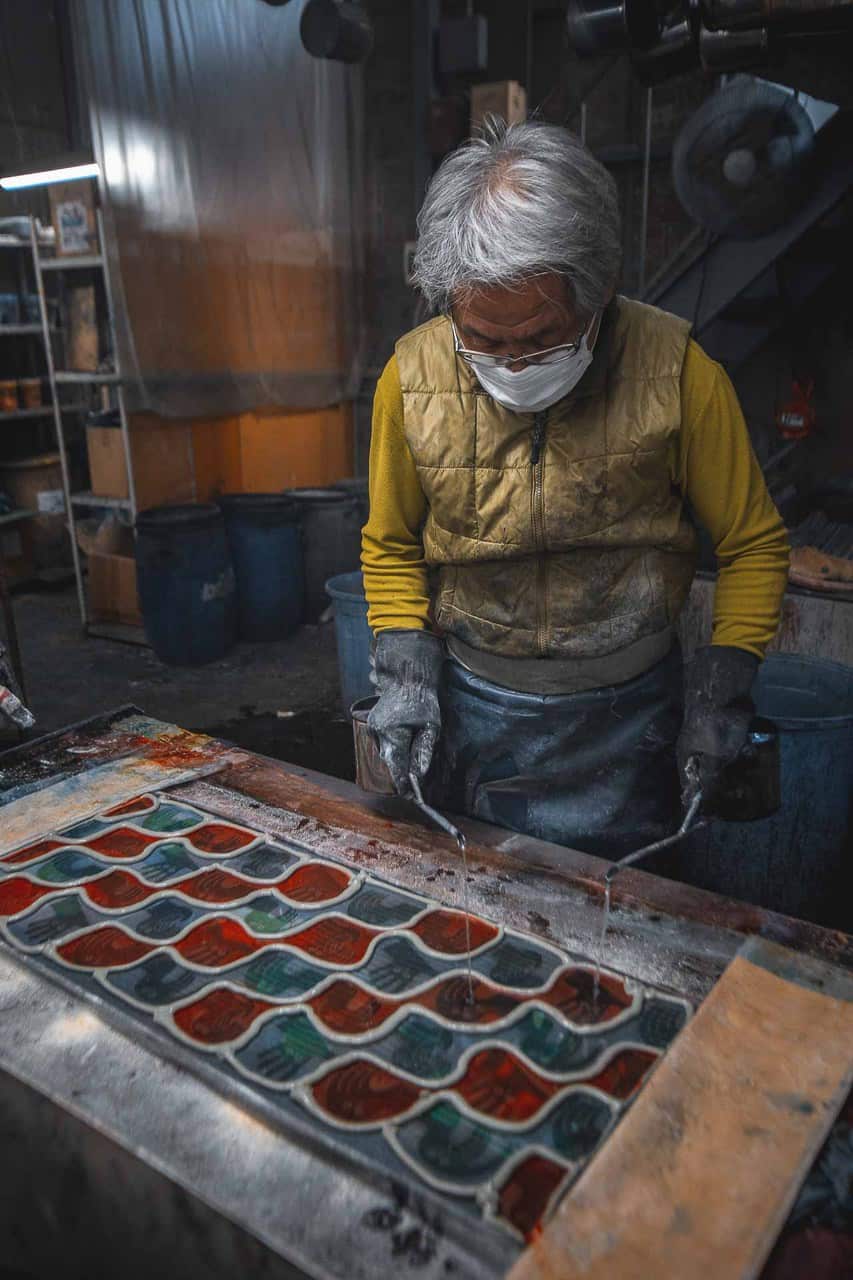 One of the things I liked most about this experience at the Nihashi Somekoujo workshop is that the obtained result is unique. Even though we can use the same design, the choice and mix of colors are entirely different from the previous one, making each piece unique.
Discover Hamamatsu Temples and Power Spots
Hamamatsu is sprinkled with many temples and shrines, including the five temples of Kohoku Gozan, designated as Important Cultural Properties in Japan, alongside other small local shrines that are worth visiting.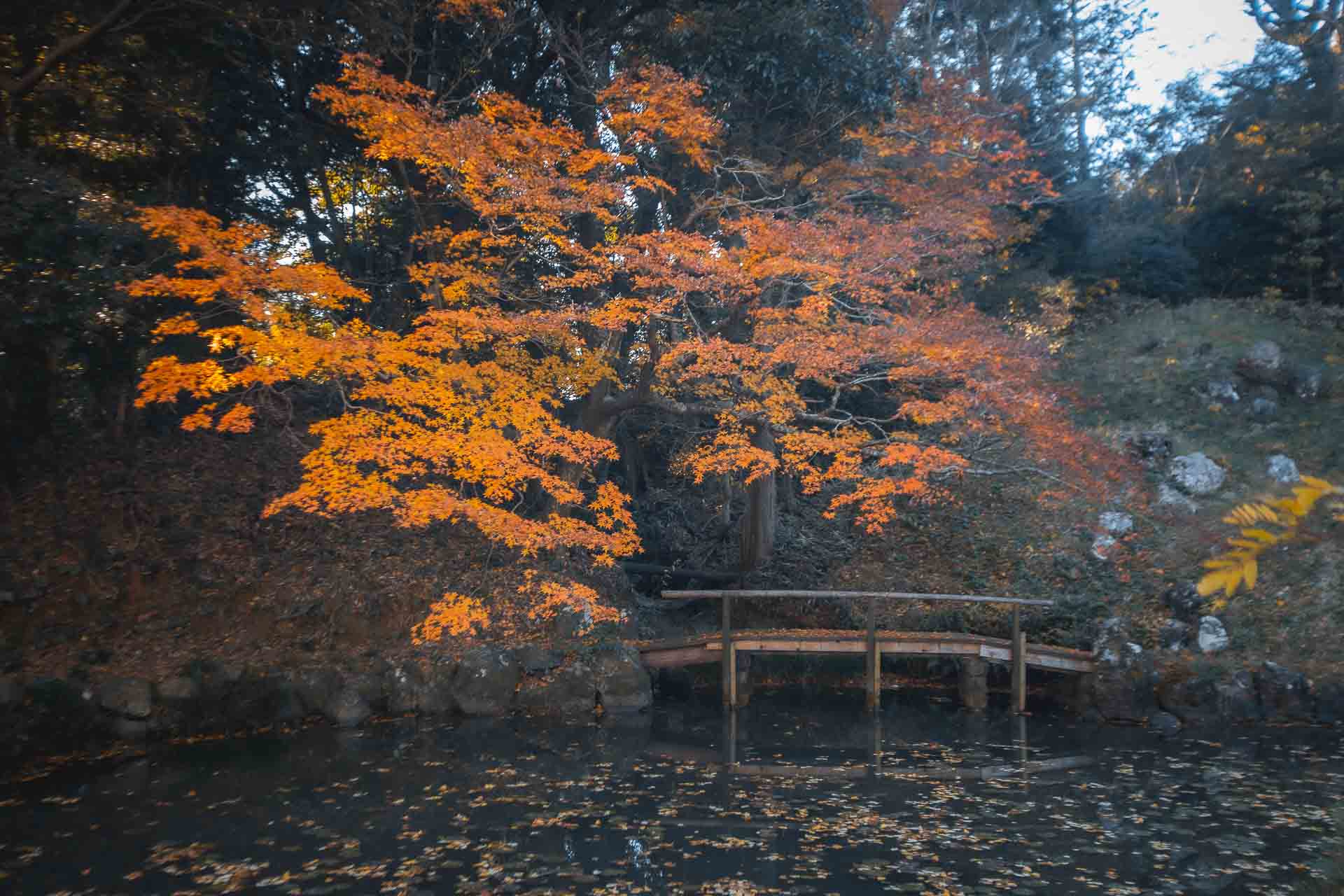 Pray to the Goddess of Weaving at Ubuginu Shrine
Ubuginu shrine is located in Mikkabi, a small farm village in the Hamamatsu region. As mentioned before, Hamamatsu was an important textile area, and therefore, this shrine is dedicated to Orihime, the goddess of weaving. Orihime is well known for the legend of the Tanabata; a festival celebrated every year on July 7. According to the story, Princess Orihime spent her days weaving beautiful pieces of cloth by the heavenly river, which is why this goddess is closely linked to Ubuginu shrine.
For more than 800 years, this shrine weaves ceremonial garments (clothes worn by the gods) every year as offerings to the Ise Jingu. In addition, Ubuginu shrine is popular among people involved in textiles and fashion, who come to the shrine to pray for their businesses' prosperity.
In a small building inside the shrine grounds, I discovered an ancient weaving machine and imagined the goddess Orihime weaving in this small, quiet place in the middle of nature. It is a magical setting, with giant trees and the ground covered with leaves. Undoubtedly, the perfect place for a goddess of Japanese mythology. The famous automobile manufacturers Toyota and Suzuki also developed weaving machines and both these companies were born here in Hamamatsu and Hamanako.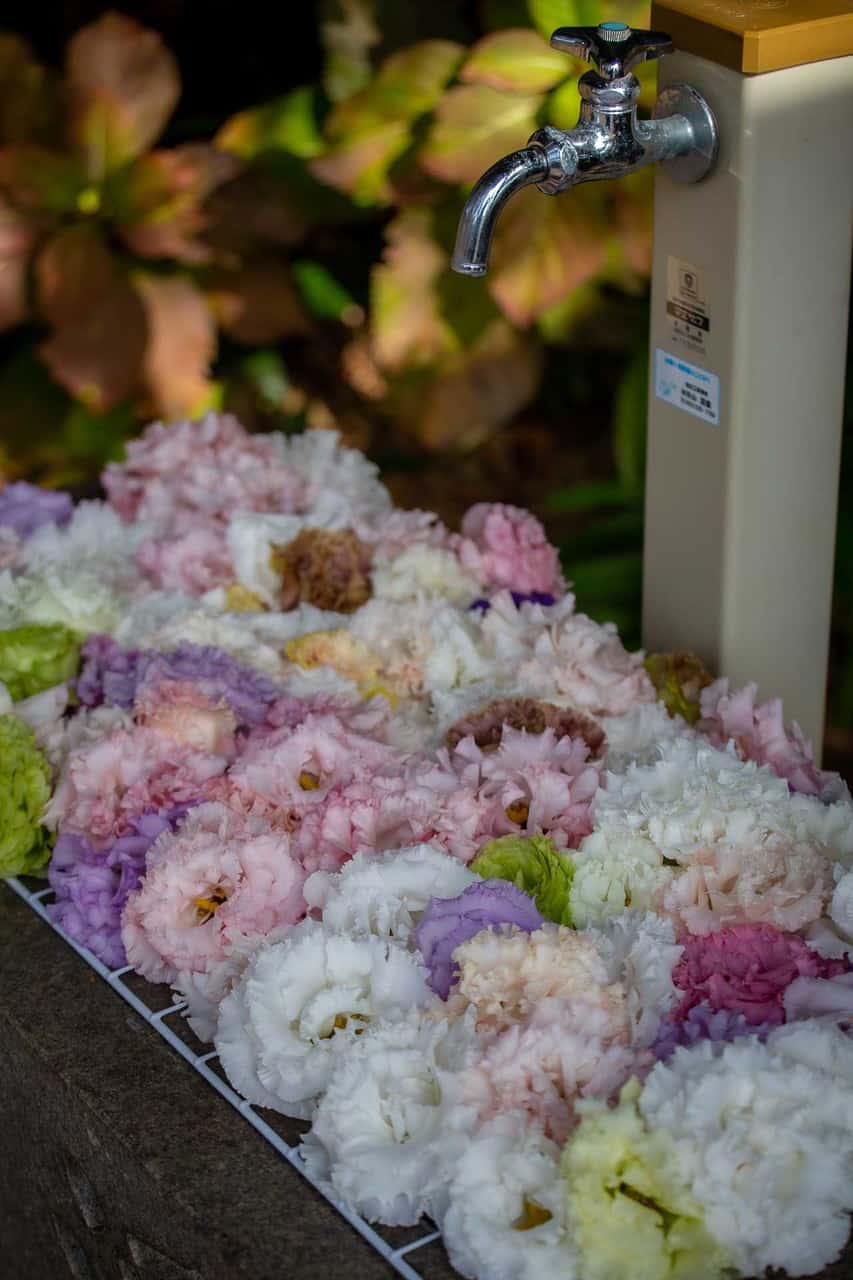 Hamanasosha Shinmeigu Shrine
Hamanasosha Shinmeigu shrine is also located in Mikkabi town. This shrine has more than 1000 years of history since its foundation. According to legend, it has almost 2,000 years of history with connections to the famous Ise Jingu in Mie Prefecture.
Legend has it that 2,000 years ago, Emperor Suinin ordered his daughter, Princess Yamatohime no Mikoto, to look for a place to worship and appease the spirit of Amaterasu, the Sun Goddess. The princess stayed where the Hamanashosha Shinmeigu shrine stands today during her journey.
Although the exact date of when the shrine was established is unknown, we do know that in 940, the Mikkabi area came under the rule of Ise Jingu, and Hamanashosha Shinmeigu was consecrated to the goddess Amaterasu. Since then, the two shrines have been strongly linked.
While walking around the temple grounds, I discovered a building located on top of a hill. That small building is the main shrine, but it is only accessible during certain days of the year. This shrine is famous among the locals for the Shichi-Go-San ceremony, an annual festival for three or five-year-old boys and three or seven-year-old girls. Ema wood plaques with drawings of this celebration hung inside the temple, where children and their parents can write their wishes.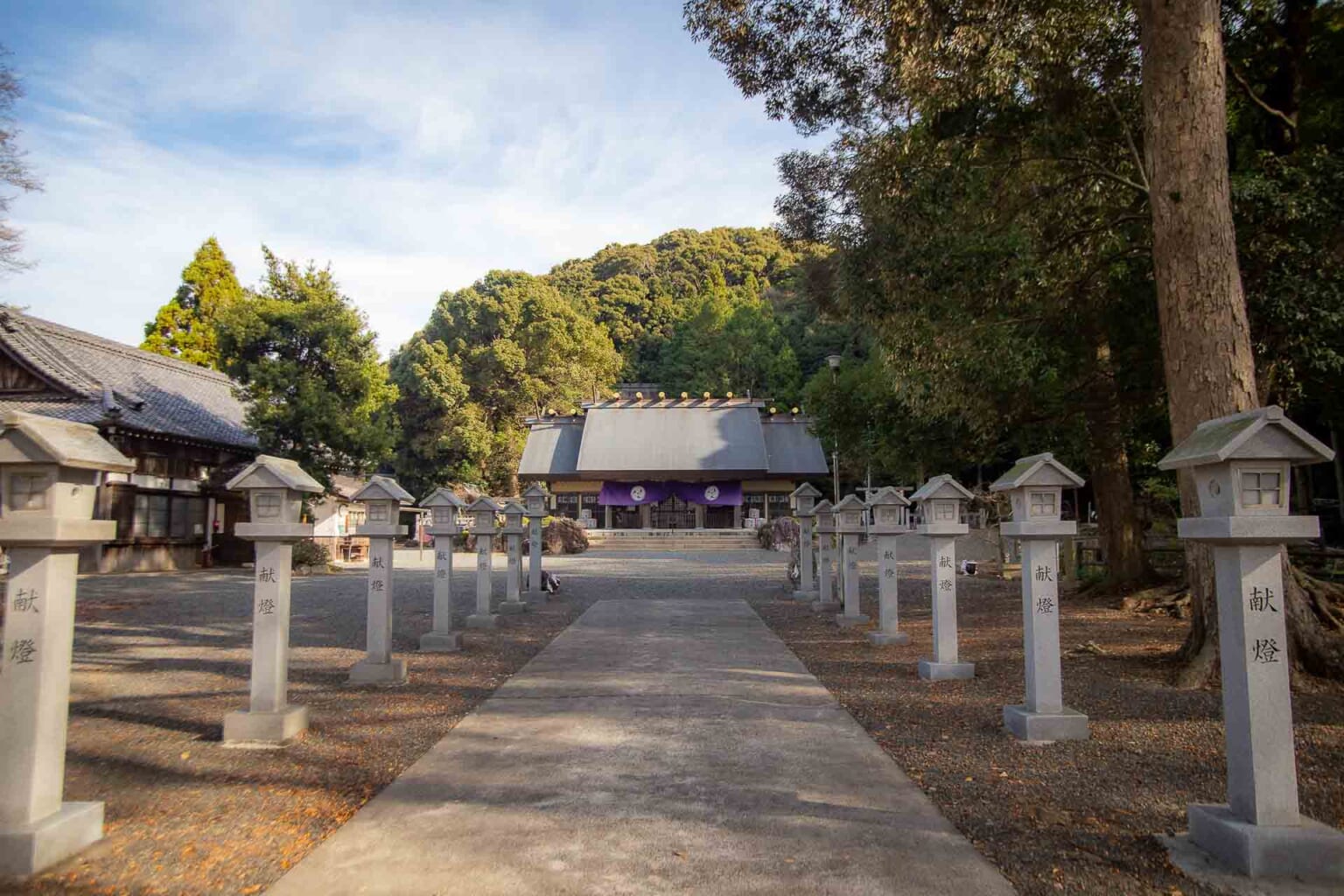 Indulge in the Local Food of Hamamatsu
Hamamatsu is blessed with nature, mountains, rivers, and the ocean. That is why there is a varied local cuisine is plenty of fresh and natural products. But without a doubt, the star dishes of this region are eel and gyozas.
Lake Hamana, the birthplace of eel farming in Japan
Hamamatsu is famous for its unagi (eel), and Lake Hamana is said to be the cradle of eel farming in Japan. Thanks to the mild climate and the passion of unagi breeders, eels from Lake Hamana are famous throughout the country.
Before living in Japan, I would never have imagined that I could try eel one day, as it is not a very popular dish in my country of Spain. And I have to confess that the first time I ate it, I wasn't very sure about it. But my opinion changed after the first bite, and it has become one of my favorite fish dishes. So I couldn't leave Hamamatsu without eating unagi.
One evening I decided to have dinner at Unagi Fujita, a nice traditional restaurant specializing in unagi close to Hamamatsu Station. The restaurant offers a wide variety of dishes whose main ingredient is eel. I chose the classic grilled style known as unaju, in which the eel is filleted, steamed, and then grilled. Finally, it is drizzled with the classic sweet and salty kabayaki sauce and served over rice.
The unique texture of the unagi and the sweet sauce is the perfect combination that makes this dish so popular in Japan.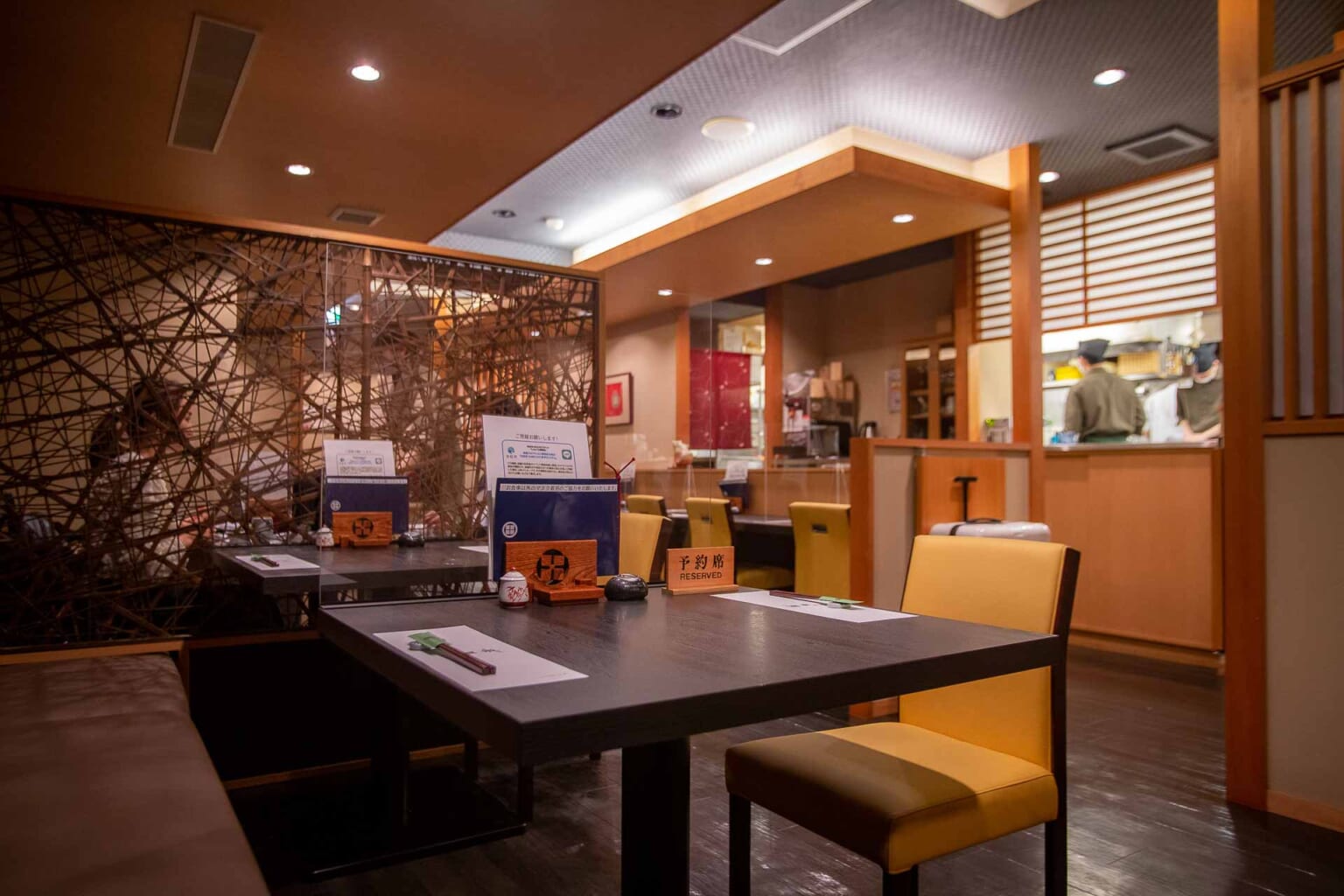 Local Flavours of Hamamatsu
In Mikkabi town, there are two famous shops with a long history where you can buy delicious souvenirs to enjoy local Hamamatsu products at home. The shops are next to each other, so you don't have to walk far or use transport.
Nagasaka Apiary
Although I arrived at Nagasaka Apiary a few minutes before they opened, I was surprised to see that a group of people was already waiting at the store's front door. Later, the staff explained that they are usually quite busy because it is quite a famous store among local people and tourists. Nagasaka Apiary was established 84 years ago and currently offers an assortment of more than 100 types of different honey and other honey products.
With so many types of honey, it took me a while to decide what to buy. I love honey and wanted to take it all home! In the end, I chose a couple of different types of honey for my family that the store staff recommended and some gifts for my friends. I was also recommended to try the popular soft serve with honey drizzled on top. Even though I had just had my breakfast, I accepted the challenge. Its smooth texture and the sweet taste of the honey were worth it.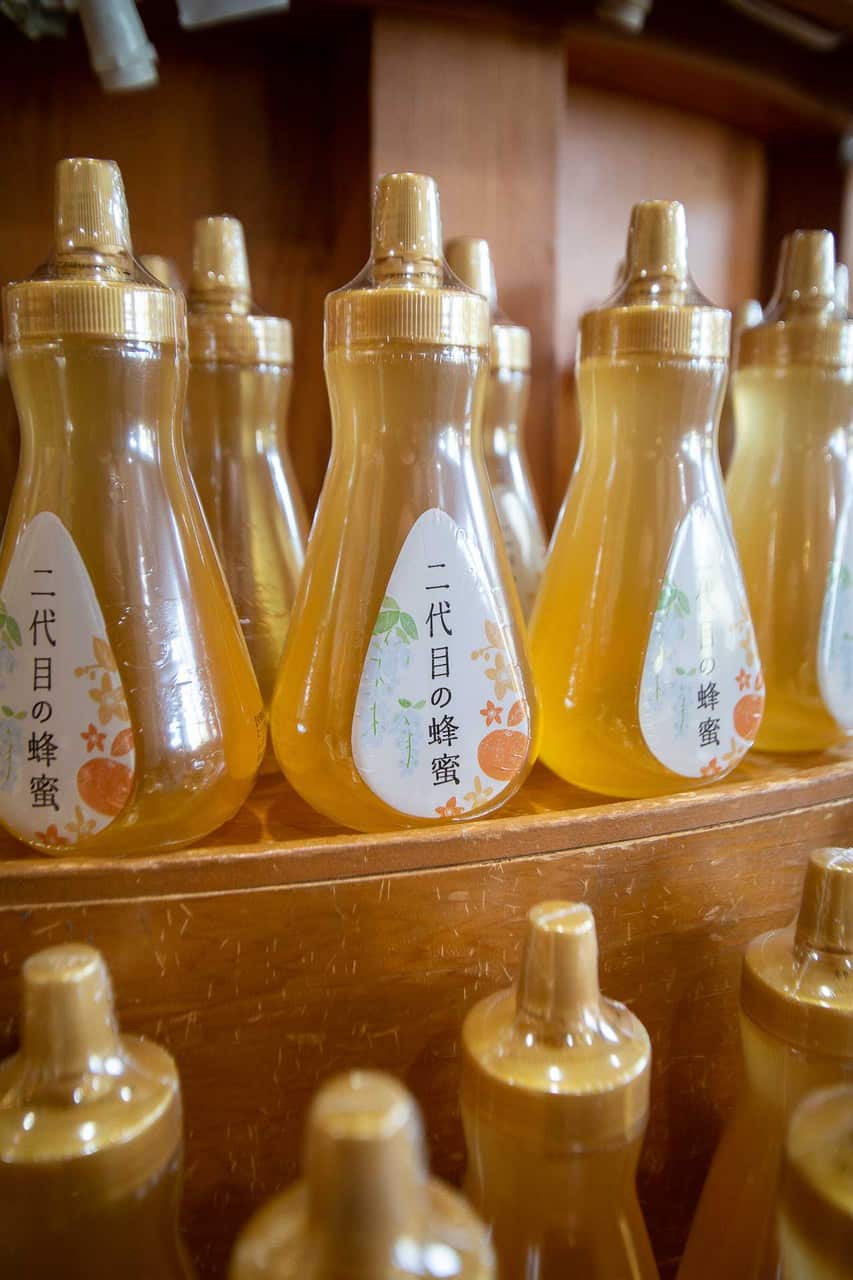 Irikawaya
Mikkabi mikan of Mikkabi town are especially famous due to the region's ideal climate for growing delicious citrus fruits. Therefore, it is not surprising that one of the most popular products of Irikawaya is mikan monaka, a traditional Japanese sweet filled with mandarin.
Irikawaya was founded in 1885 by a fish wholesaler, and the store has been passed down from generation to generation as it evolved and added new products. In Mikkabi, mandarins are only available during the mandarin season, so they decided to come up with a new product so that people would have the opportunity to enjoy mandarins all year round, and that's how the mikan monaka came about. 
But at Irikawaya, you will also find many other types of Japanese cakes and sweets: the fruit and chocolate cakes and the fluffy sweetbreads were mouth-watering. In addition to the mikkan monaka, I bought a varied selection of sweets that I enjoyed on the train back to Tokyo.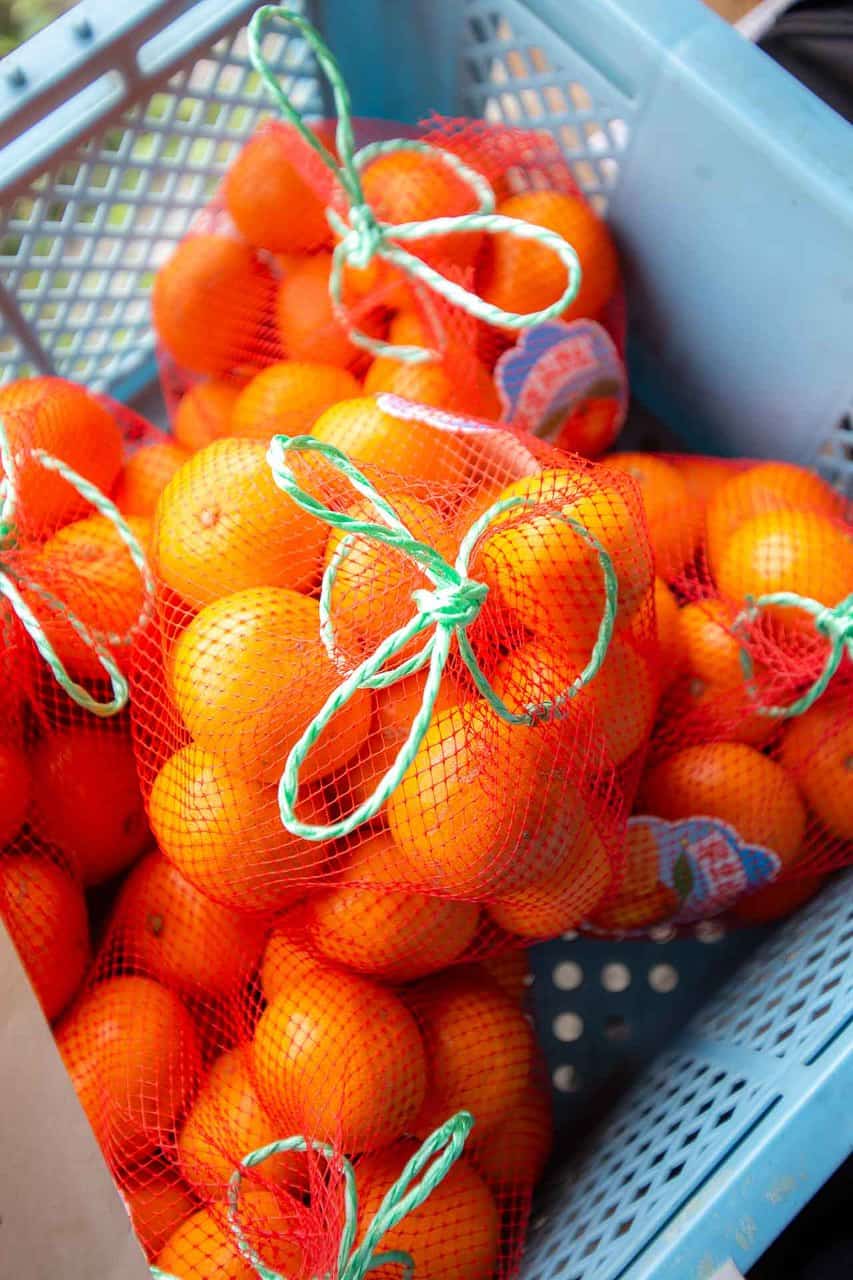 Enjoy a Sunrise from your Lake Hamana Hotel
Hamamatsu is a perfect destination for a relaxing weekend or to enjoy the charms of rural life and forget about crowded cities. That's why it's essential to choose your accommodation wisely. When I arrived at KIARA Resort & Spa Hamanako, I knew I had found the perfect hotel for me. It is a resort hotel located on the shores of Lake Hamana. My experience at this hotel can be summed up in two words: comfort and omotenashi Japanese hospitality. KIARA is the pure example of omotenashi from the moment you walk in the door until the moment you leave.
All rooms have large windows and also a terrace overlooking the lake to feel and enjoy the beautiful nature of Hamamatsu. I could even enjoy a pleasant sunrise from my bed in the morning. The bathroom also has a large window, so I decided to take a relaxing bath overlooking the lake before going to sleep. KIARA also offers spa and body care options, but I was so relaxed after the bath that I didn't need it.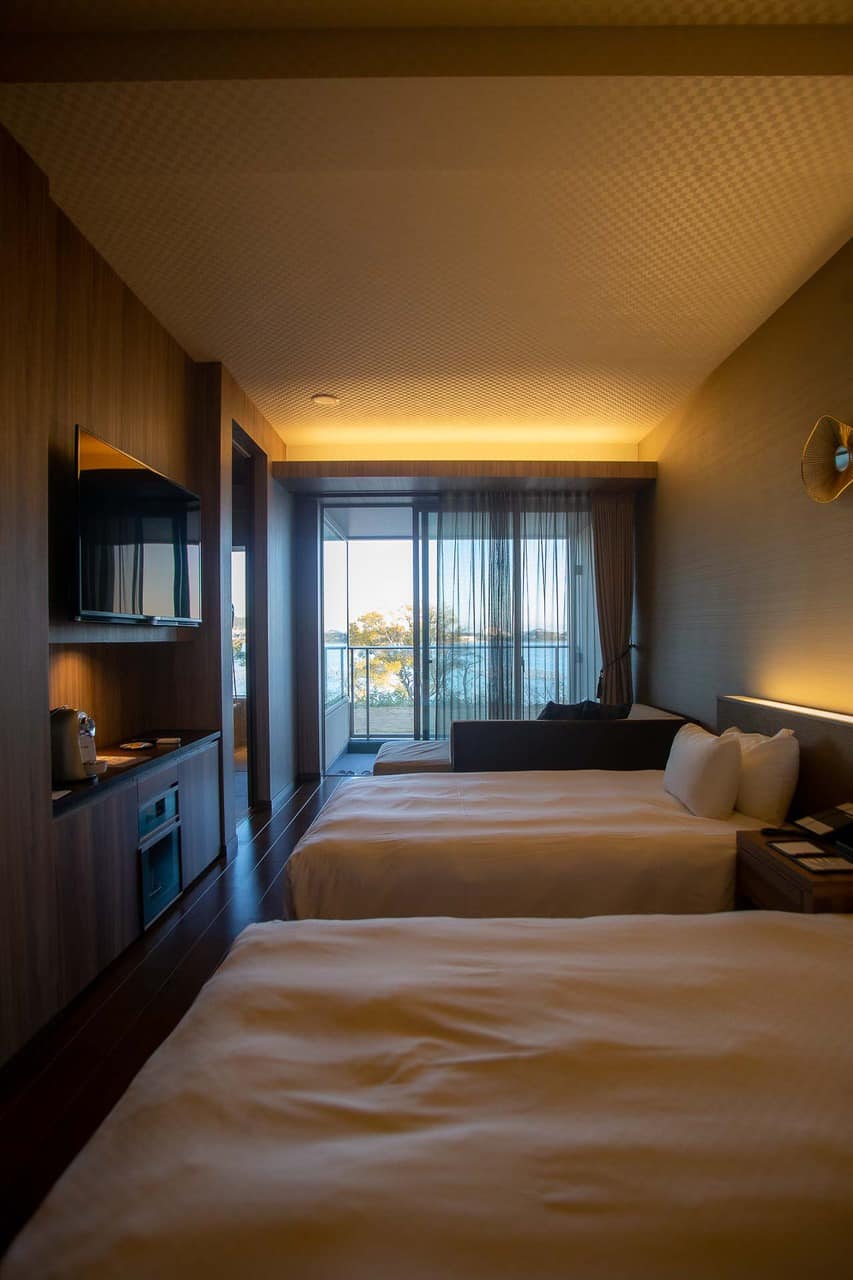 Another strong point of this hotel is the food. There, you will find two restaurants offering different types of food. CIEL BLEU is a restaurant offering French cuisine and top-notch fusion cuisine. FOS offers a Western menu and a kaiseki menu cooked with local seasonal products. Both options include a buffet with sushi, made with fresh fish from Lake Hamana, and other delicious dishes. You can also choose between Japanese breakfast and Western breakfast in the morning.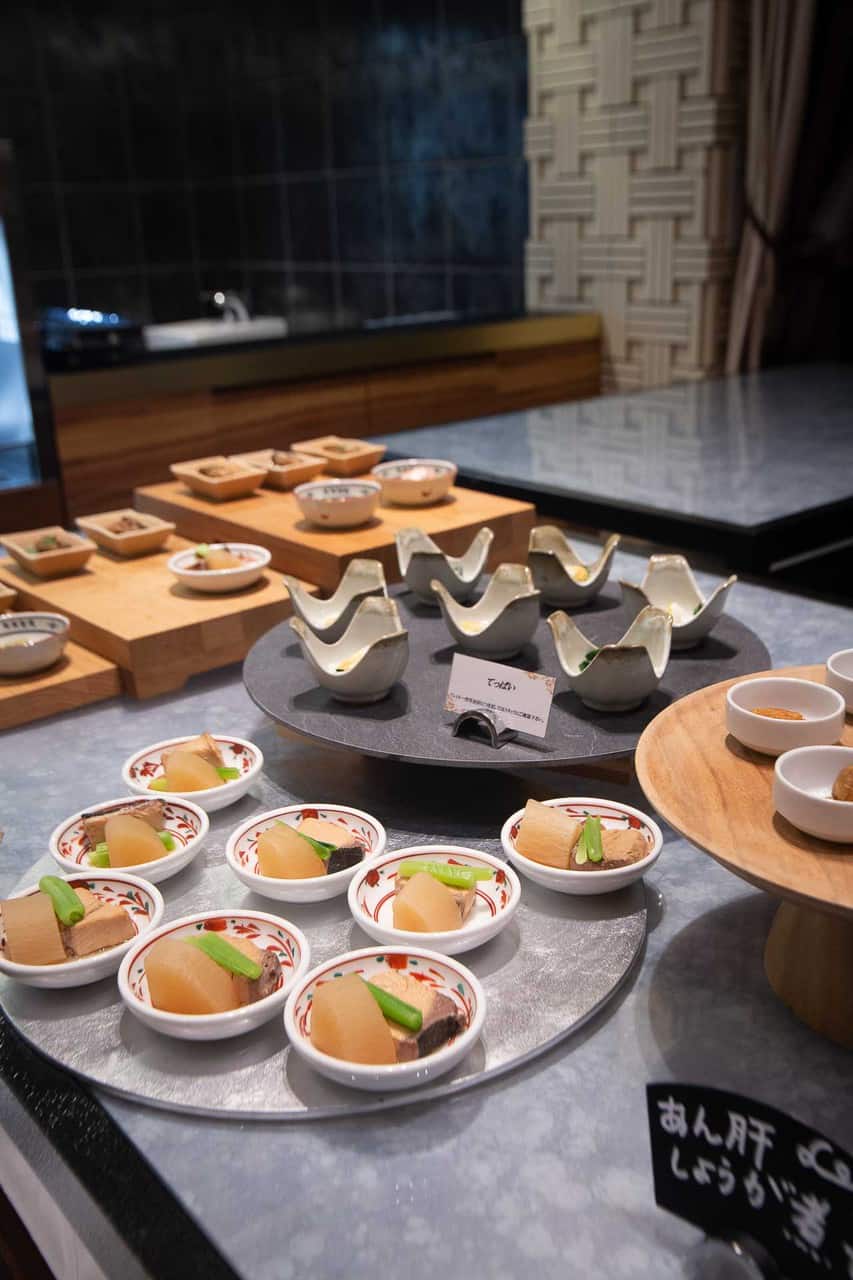 I can say that my experience at KIARA was wonderful from start to finish. Besides enjoying the comforts of a resort hotel, it is also a treat for all five senses. KIARA Resort & Spa Hamanako is a members-only hotel, but visitor accommodations are available, so it's the perfect place if you're looking for an exclusive hotel stay.
Kitanoniwa THE KURETAKESO in Hamamatsu City
If you plan to spend the night near Hamamatsu Station, I recommend the Kitanoniwa at Kuretakeso hotel. It is a modern and enjoyable hotel. The rooms are spacious and comfortable and thanks to its perfect location next to the train station and bus stops, it is a great choice if you are going to move around by public transportation. For example, if you want to go to Lake Hamana, you do not have to take a bus to Tateyamaji Onsen, but can take a train from Hamamatsu Station and arrive at Bentenjima on Lake Hamana in 13 minutes, where you can enjoy a spectacular view. Every evening, you can enjoy open bar drinks during happy hour in the hotel restaurant, and in the morning, it offers a varied buffet-style breakfast.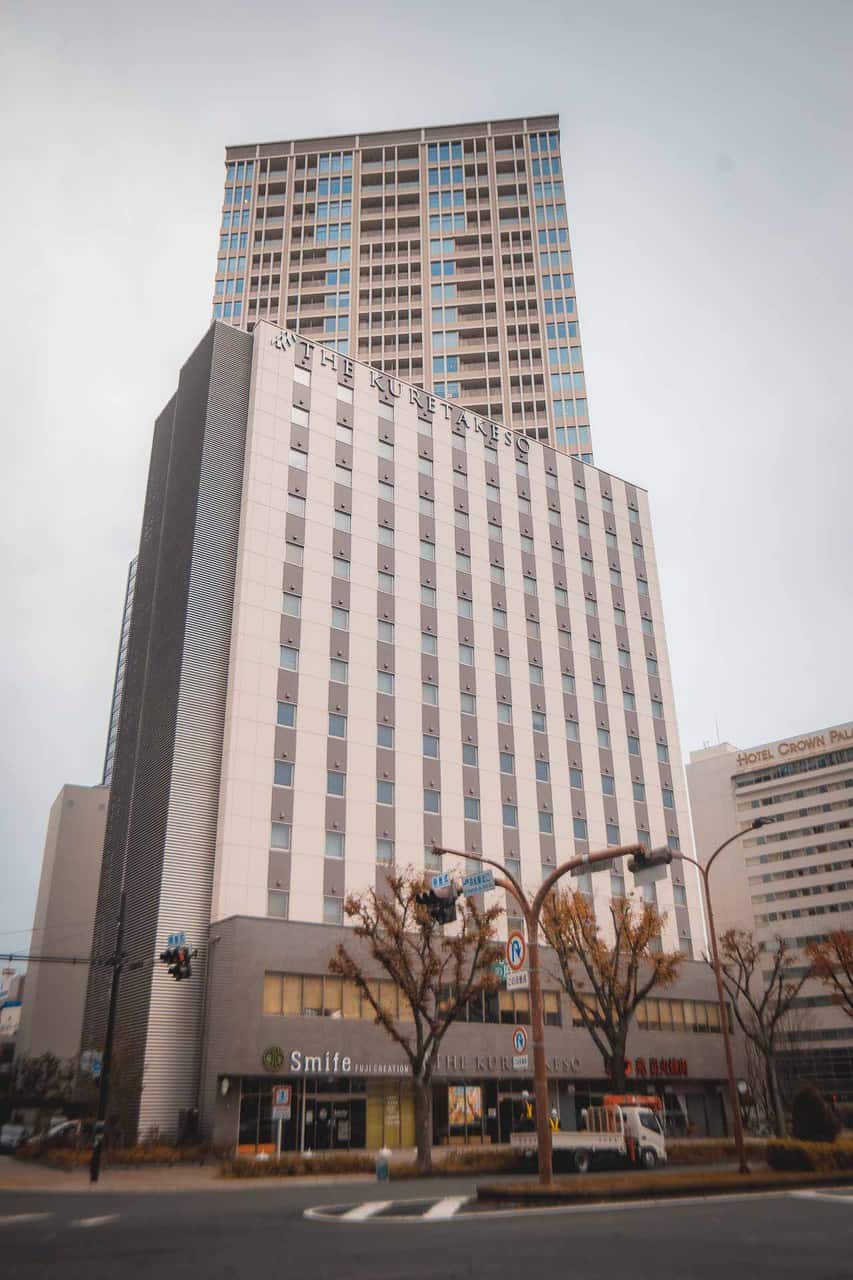 How to Get to Hamamatsu
To get to Hamamatsu, take the JR Tokaido shinkansen (bullet train) from Tokyo or Kyoto station to Hamamatsu station. To get around the city and its surroundings, you can use the several train and bus services or take a cab.
This area offers an unlimited amount of activities and interesting places. Hamamatsu may not be as well known among tourists as other Japanese cities. But its stunning nature, historical sites, and delicious local dishes may surprise you and make you love Hamamatsu. If you are willing to discover new places and live some unique traditional experiences that you will hardly find anywhere else in Japan, then Hamamatsu is perfect for you.
Sponsored by Hamamatsu City